You know we are big fans of
Better Homes and Gardens
magazine. Not only do we look to it for inspiration and ideas, how-to, trends, and cooking tips, but, we have been contributors to the magazine as well. As many of you know, a bathroom renovation that we completed appeared in the September, 2008 issue of the magazine and a spare bedroom that we turned into a crafting studio was in the June, 2010 issue. So it was a treat to have the magazine actually come to life for me this weekend at the
Better Homes and Gardens
"Chill & Grill" Festival, getting to meet and interact with several of the familiar names of the folks there that have graced the pages of the magazine for several years! The elegant, warm, and friendly Editor in Chief Gayle Goodson Butler, Richard Swearinger, Senior Editor, Food and Entertaining, and Nancy Hopkins, Senior Deputy Editor, Food and Entertaining who was a judge at the Grilling Showdown.
I have said this before and I'll say it again: The people that I have encountered in the these contests are some of the most amazingly friendly, encouraging, and talented people that I have ever met. That's not to say that they aren't competitive, they are. But, most of us show up at these events to have a great time and winning is simply the icing on the cake! Or, in my case, the pesto on the burger!
This past weekend, I had the privilege of meeting one such person at the Grilling Showdown portion of the Festival. The other finalist and my worthy opponent was Michelle Wiederhold from Phoenix, Arizona. Although this was her first live competition, she was a pro and poised under the stresses that come with these contests. Those of you who have competed in these live, timed competitions know what I'm talking about: Those little unknown things that happen at the last minute and have the potential to throw you off. She was missing some items as was I, but in the end we laughed, prayed, and, as it usually happens, it all worked out and we were ready about 15 minutes before we hit the stage.
And, she was so nice! We only had 30 minutes to prep beforehand and she knew that I had a lot of prep work to do. (Note: I seem to create a lot more work for myself in these competitions with the recipes I enter and the fact the everything has to be perfect. But, it seems to be working for me so far, so I'm going to stick with it! Call it OCD or ADD--whatever, it is what it is, right?) Anyway, she was planning to do most all of her prep on stage so she offered to help me with my prep! While I declined, I was touched by her sincere offer and when I got back to the hotel, I decided I wanted her to win!
I have to say here that the everyone from
Better Homes and Gardens
was absolutely fantastic! Everything was so organized, and besides a few catering glitches, one of the best events that I have had the privilege of participating in! A special thank you to Kristen Suarez, Promotions Director at the magazine who was also the organizer for the contest and our handler--she was absolutely amazing! And, even with everything else she had to manage and take care of, she babysat my dough, protecting it as if it were one of her children!
There was a lot on the line: Title of
BHG's Next Great Griller
, $5,000, a
Weber® Summit® S-670™ gas grill
, a mention in Better Homes and Gardens magazine, and an appearance on Better TV!
So, the competition started under cloudy skies but the rain held off. Having grilled in the rain before, I was happy that Mother Nature cut us a break! We were given 30 minutes to prep before the show in the prep tent behind the stage.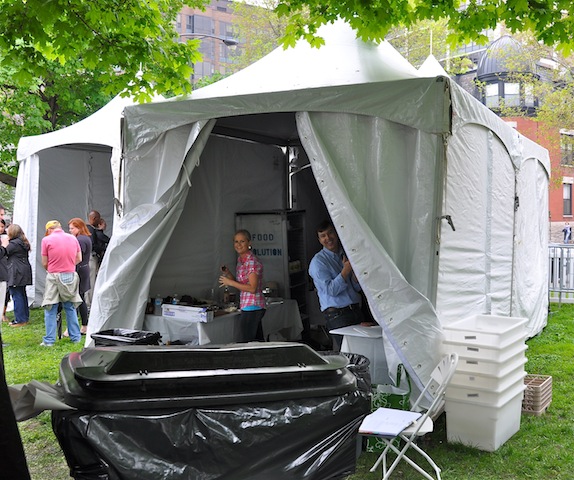 It was a very crowded space...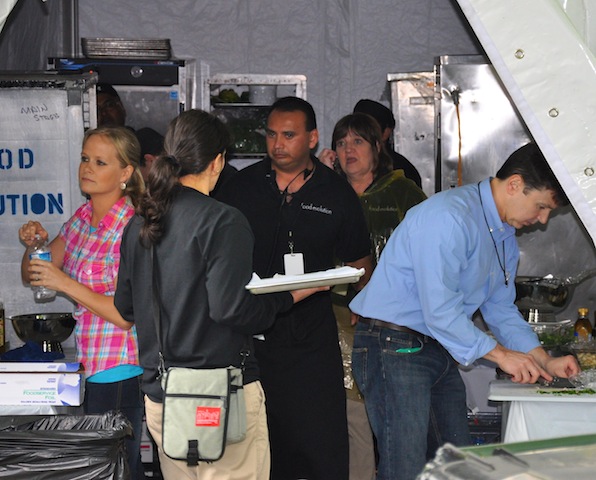 ...but, we managed to have a great time and get the job done!
Next, it was time to meet the emcee Chef Art Smith and our celebrity chef assistants--the host of "Chopped," Ted Allen, and Daisy Martinez of "Viva Daisy!"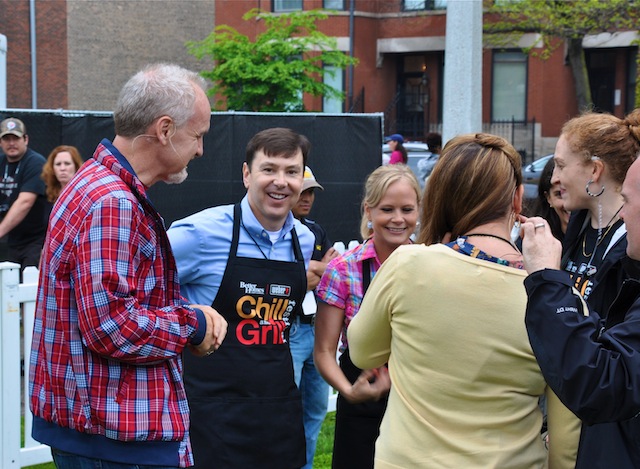 The amazing panel of judges was there too: Chefs, cookbook authors, and grilling experts, Jamie Purviance and Elizabeth Karmel, and
BHG's
Senior Deputy Food and Entertaining Editor, Nancy Hopkins.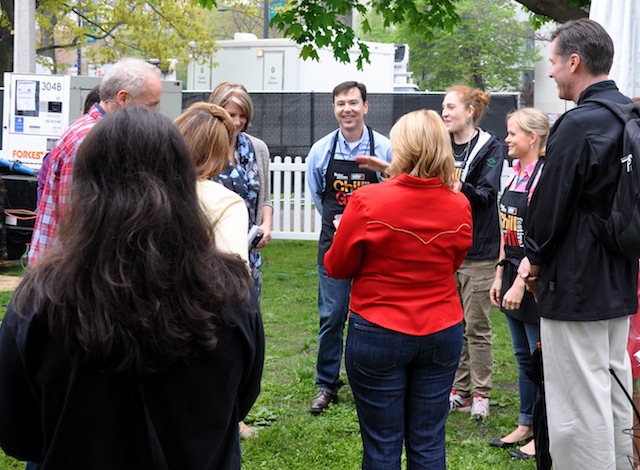 We received our last minute instructions from Katherine Lentini of LeadDog Marketing Group who was wonderfully organized and served as stage manager.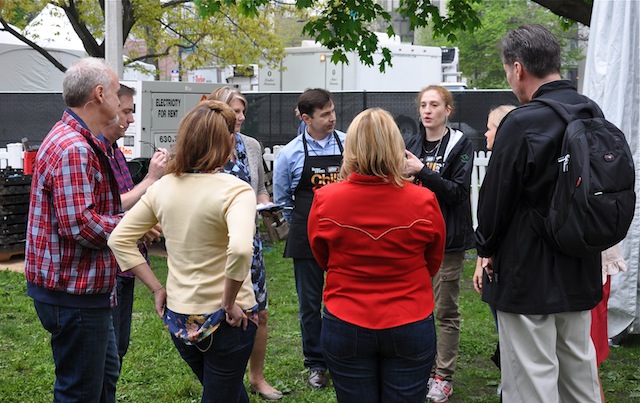 Then, it was time for welcome and introductions from Editor in Chief Gayle Goodson Butler.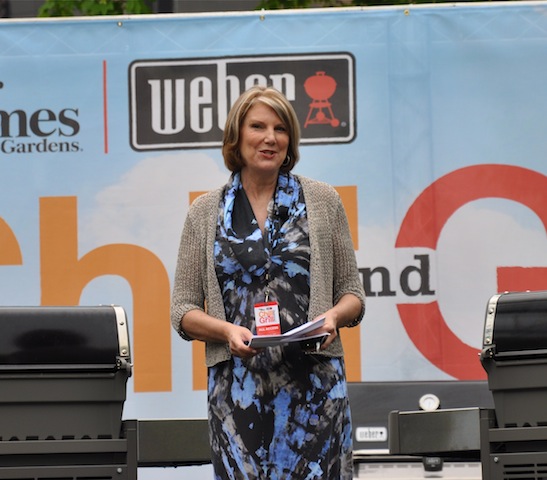 Chef Art Smith took the stage in beautiful Lincoln Park.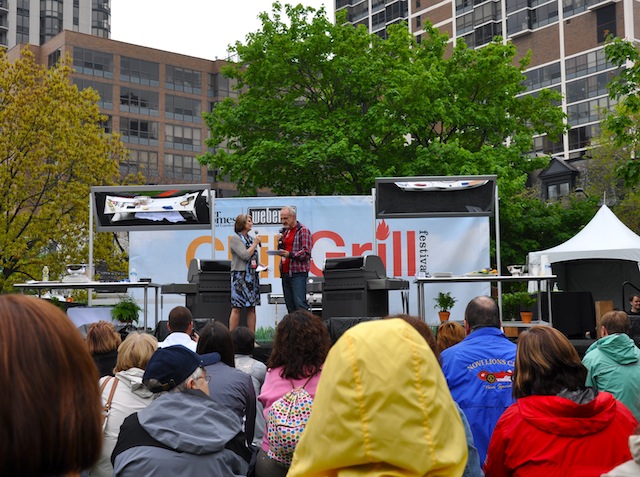 First up was Michelle for a little "grilling" from Chef Smith.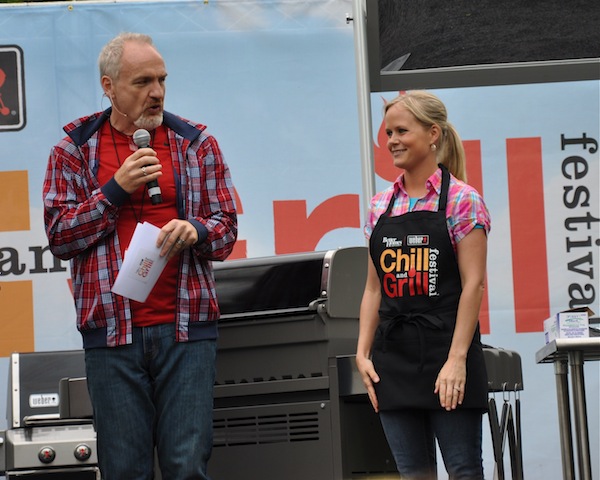 Next, it was my turn! He did a wonderful job making us feel so relaxed...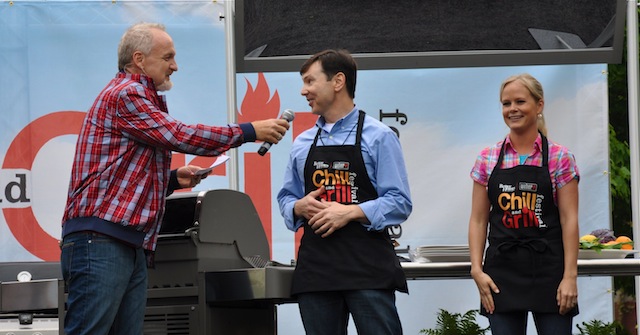 Our "assistants" took the stage and it was time to begin! 40 minutes on the clock... "Start grillin'!!!"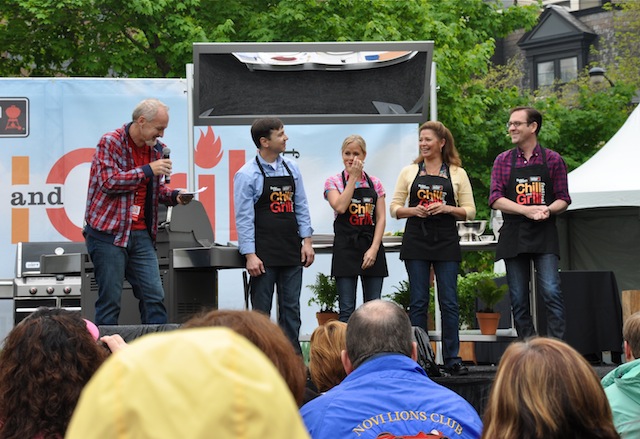 Ted was paired with Michelle for the first 20 minutes...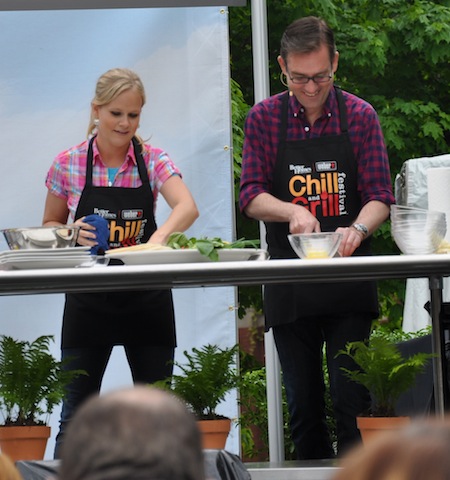 ...and I was paired with Daisy. She was awesome! We were required to assign each chef a portion of our recipe and I had her make the sun dried tomato pesto for me.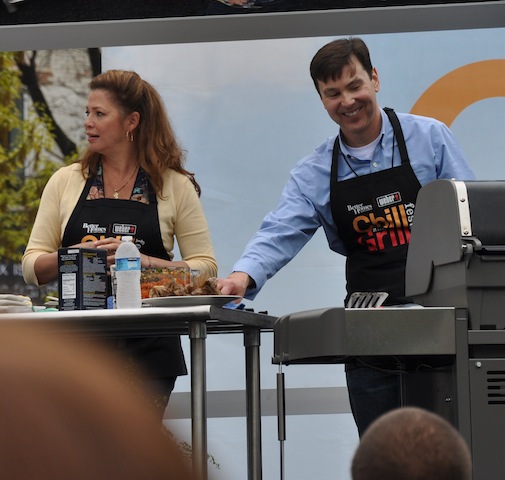 She got right down to business measuring...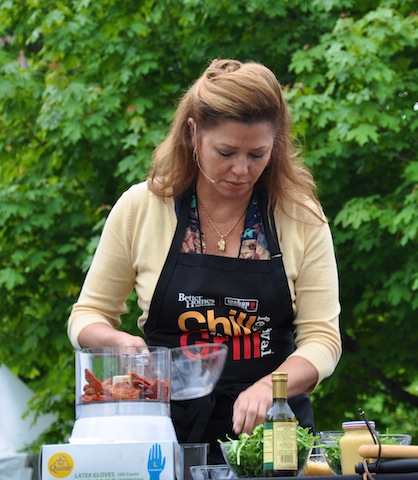 ...and seasoning my creation perfectly!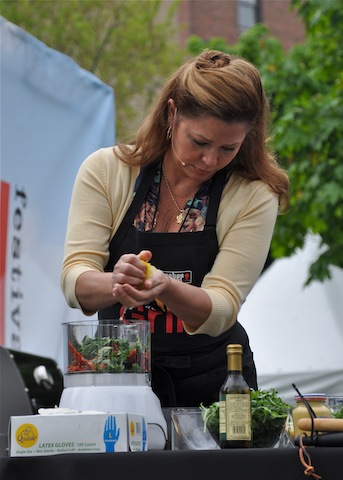 When I practiced the recipe at home, I was able to complete it within the allotted time but having the help was fun and it made the experience a little more relaxed. During one practice session at home, I had Rich play Daisy for 20 minutes and Ted for the remaining 20 minutes to give me a feel for the time I'd have during the contest and how to pace myself.
The grills were awesome! And HOT! My fear is always serving something burned or under done and since I had never cooked on these grills before, I had to monitor everything carefully.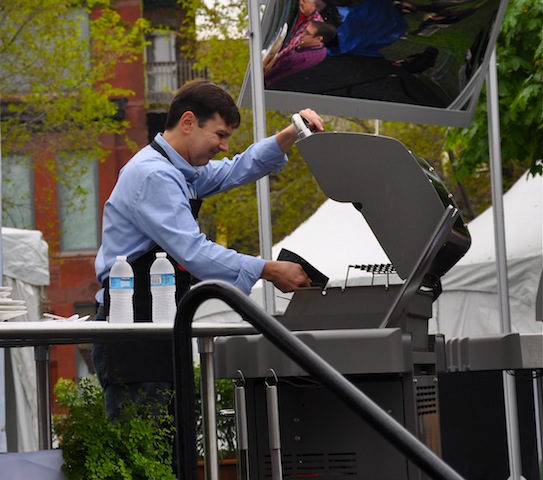 It's tough to answer questions and cook at the same time! I am usually focused during these contests, but on stage personality was a scoring criteria, so I managed to utter a few polite things--I think... I was wondering if anything was burning!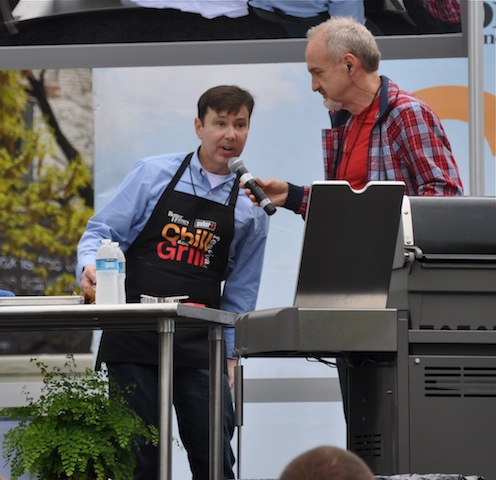 The first 20 minutes flew by and it was time to switch our assistant chefs.
Michelle got my Daisy...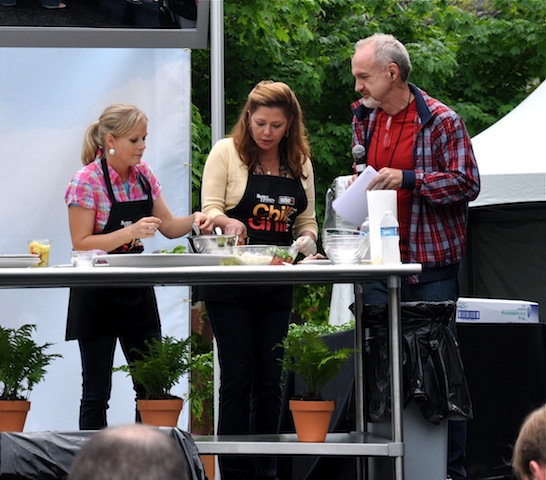 And I got her Ted...
I had met Ted at the "Taste of Beverly Hills" where he was a judge for the LG contest. I had him make the herbed oil vinaigrette and herb salad for the burger and he seemed to appreciate the fact that I had laminated his recipe card! I thought it might be a good idea because of the weather...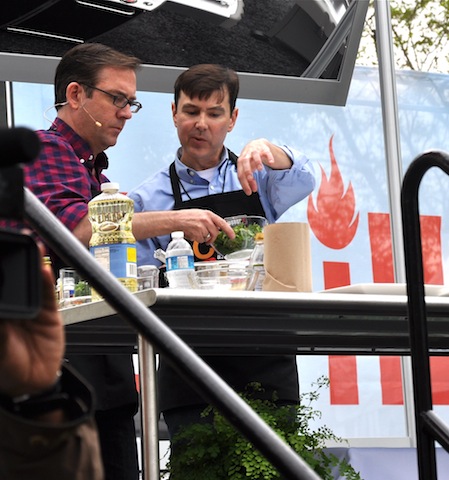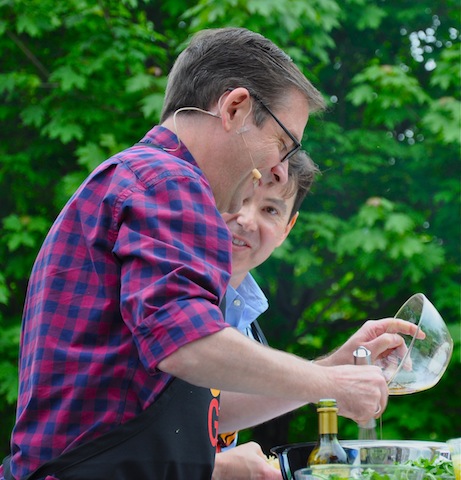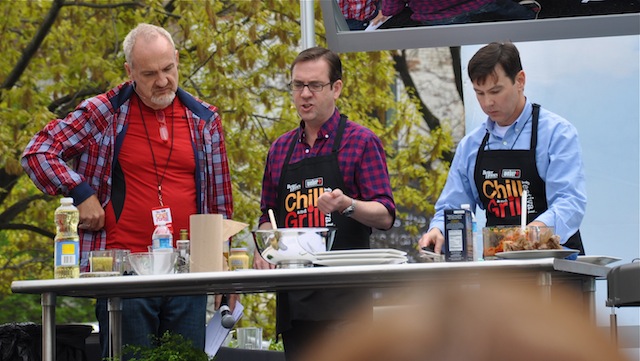 While we were grilling, the judges were watching for grilling technique and our proficiency at our grills. These judges are experts and know their stuff!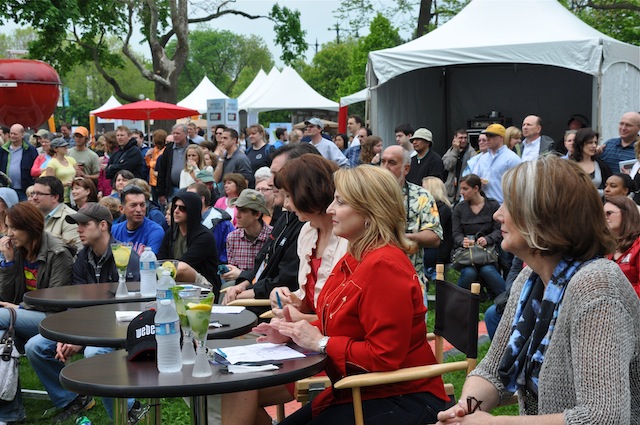 I was going to plate early, but Ted reminded me that on "Chopped" it is down to the wire. Plate too early and the food gets cold; too late and there's a possibility you don't get food on the plate... This dilemma could cost a finalist the win.
With minutes to go, it was time to plate!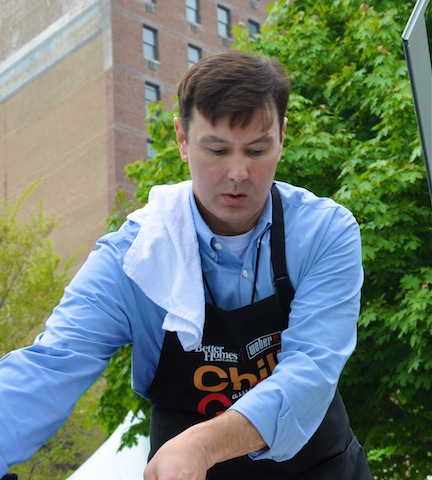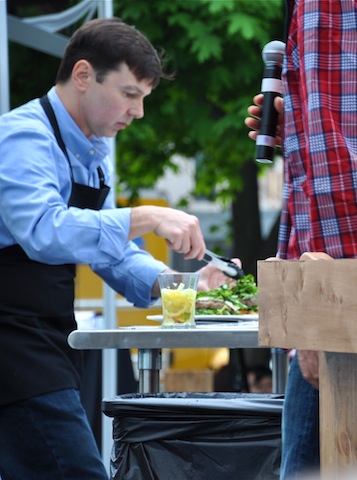 Michelle served her "Ahi Tuna Tacos" first. She carried all of her plates to the judges all by herself--seriously, I was amazed by how calm and confident she was!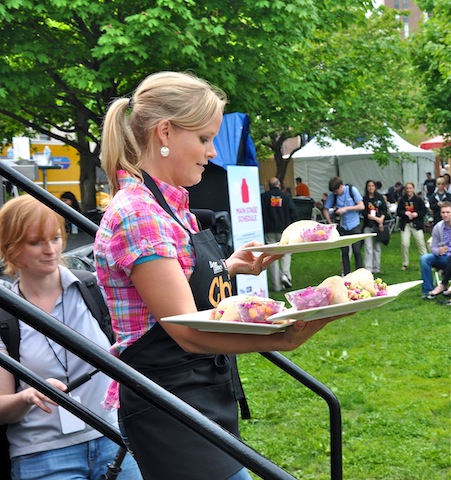 Rich was so enthralled with the fish taco that he failed to get any pictures of me delivering my "Rustic Italian Marketplace Burgers with Sun Dried Tomato Pesto, Herb Salad, and Baked-on-the-Grill Buns."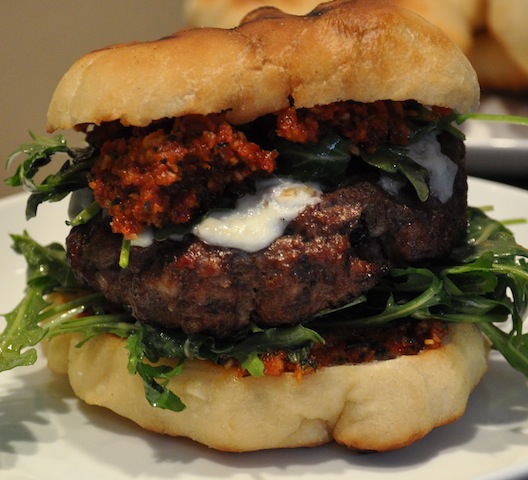 He had said early on that the fish tacos were his favorite and that I had my work cut out for me! Seriously, the support I get sometimes!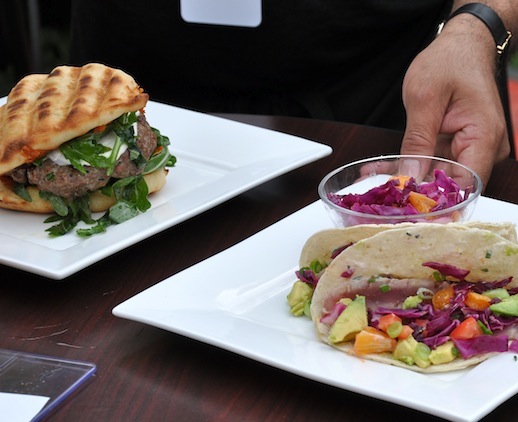 Both dishes looked great! The colors and concepts of each were fresh and worthy of the win. The judges asked a few questions and made their comments...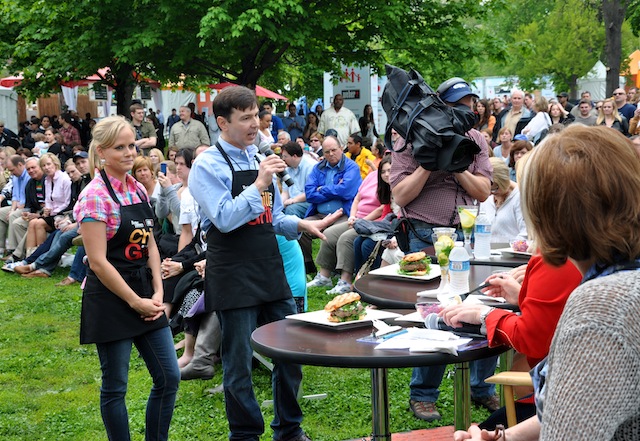 ...and then Michelle and I waited...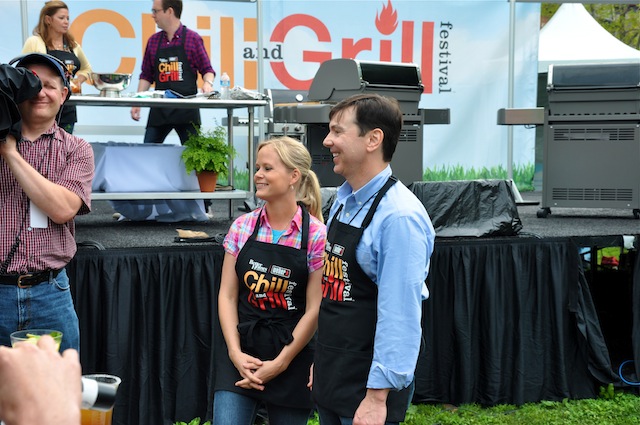 ...for the judges to taste...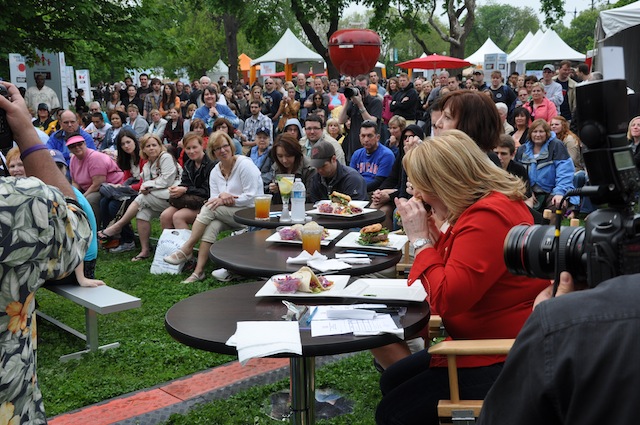 ...deliberate...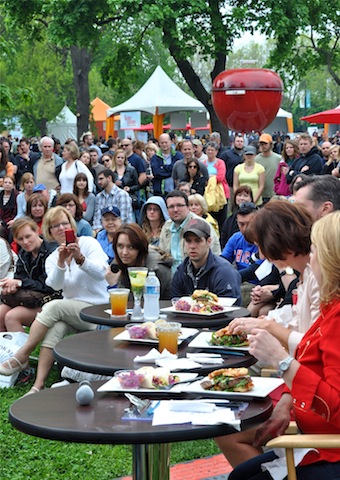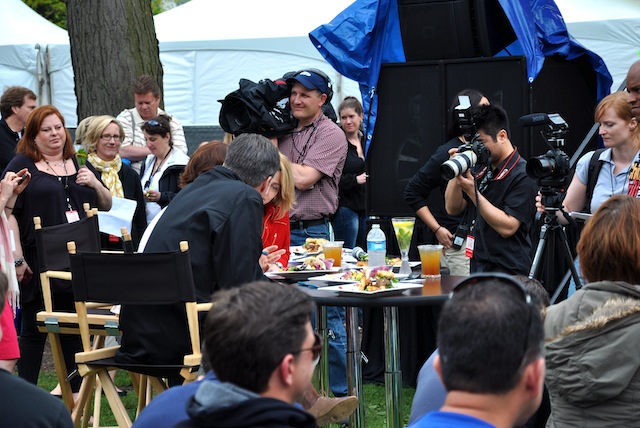 ...and score our dishes!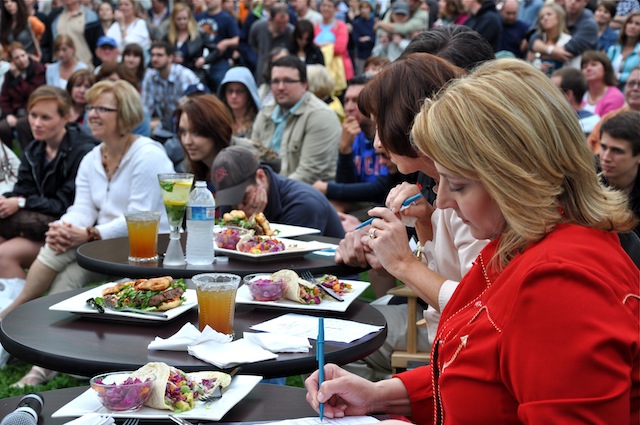 While the judges were scoring and discussing our dishes, the celebrity chefs on stage were joking around and asked if the judges needed a calculator!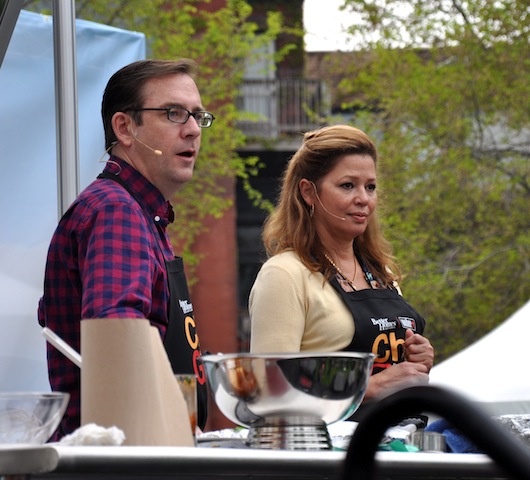 Chef Smith asked a few questions but Michelle and I were ready to hear the results!

And it was finally time for the results! I felt great about what I had accomplished and had already decided that I would be happy with the outcome even if I didn't win. Not only for the reasons that I had mentioned earlier, but also because I was proud of what I placed in front of the judges. For me, as long as I'm happy with what I turn it, I can live with the outcome. There are so many variables in these contests, and just being able to finish and to be pleased with your dish is a huge acheivement.
The judges were very complimentary about our dishes and seemed impressed with my buns! I wanted to do as much as possible on the grill since one of the sponsors was Weber so, on the grill, I toasted the pine nuts for the pesto, simmered the herbs to create the infused oil, baked the buns, and grilled those burgers like I had never grilled burgers before!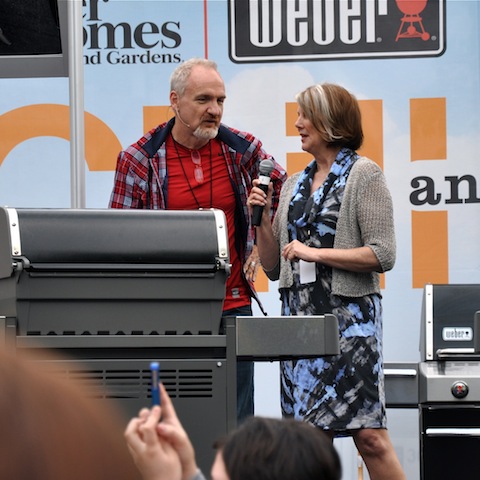 In the end, I won!!!!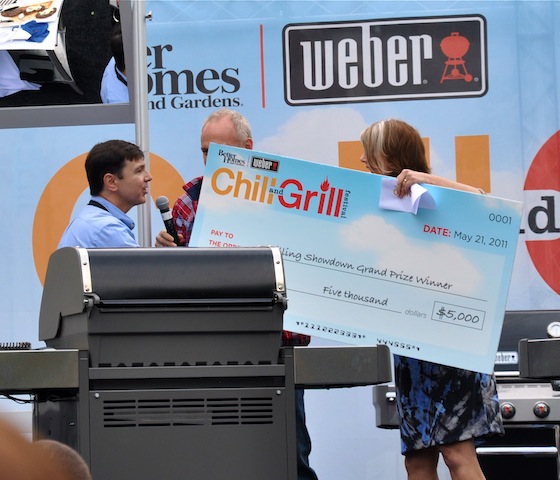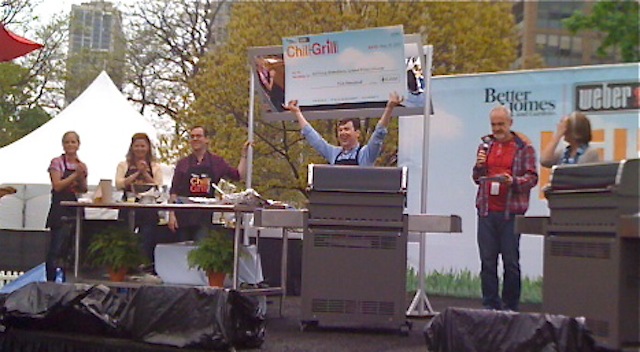 We got to chat a lot before and after the contest.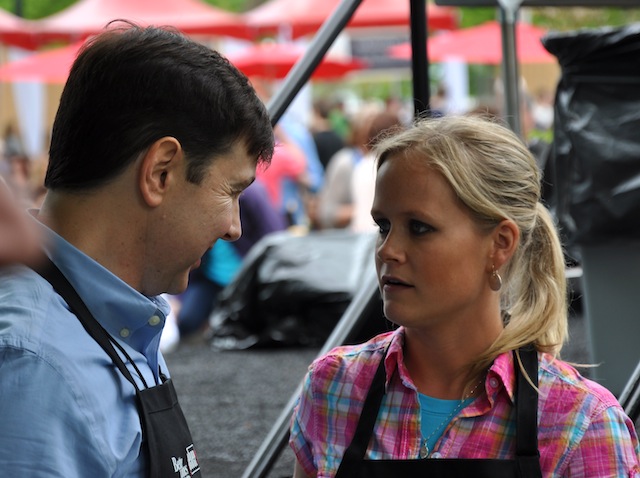 And, although I won the Grand Prize, we both walked away a little bit richer in more ways than one. For Michelle, I hope the experience was fun and one of many more to come! For me, I grow a little more confident in my abilities every time I have the opportunity to compete.
Afterwards, we took some photos for the magazine.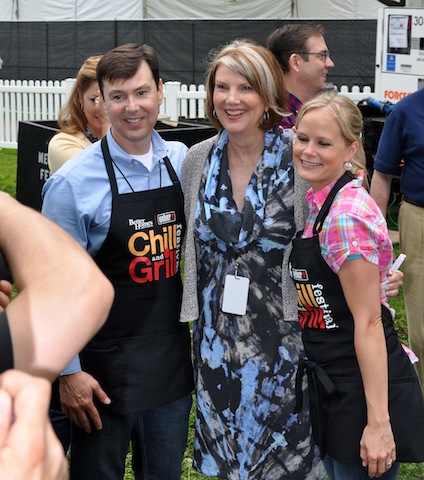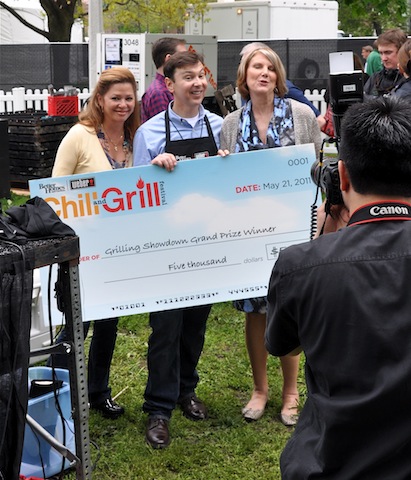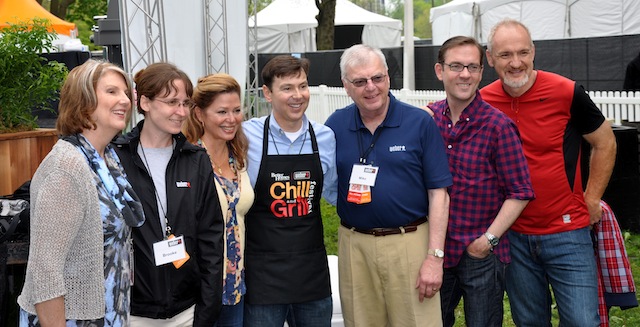 This was another amazing experience in this adventure that I love. I was humbled and delighted by the support of friends who came to cheer me on at the event, which made it all that more special! I thought by now that Rich would be tired of these contests, but he jumped at the chance to come to this one! My BFF Lynn who lives in Chicago--I was so happy she finally got to see me compete! She gets to read most of my recipes and is my number one cheerleader! Debbie and Kristina Vanni were there and I am disappointed that things were so crazy afterwards that I didn't get to properly thank them for coming! And, my twin from another mother, Julie Beckwith--it was wonderful to spend some time with her afterwards!
Here's a little video footage that Rich was able to capture. One of these days, he's going to get to just sit and enjoy a contest!
Video link!