As I organized these pictures and tried to adequately describe my experience at the
LG Life Tastes Good Championship
in Seoul, South Korea, I realized these images and words simply do not do justice to the memories that I hold in my heart. And, some things cannot be articulated: New friendships that were made, personal goals that were met, the thrill and excitement when you hear your name
and
"representing the United States of America" in the same sentence, feeling the love and excitement of friends and family rooting for you to succeed…
I'll start at the beginning--if you missed the post about the US contest that I won to qualify me for this global event, this link will catch you up to speed! LG
Life Tastes Good US event in Beverly Hills, California.
The LG USA team, Jennifer, Katy, Ellis, and John have all been a fantastic group of people to work with and they worked tirelessly to provide me with a once in a lifetime experience.
From start to finish, here's an actual video link to the event. It's worth watching the beginning introduction--it made me feel like I was at the Olympics!
LG Life Tastes Good Championship in Seoul, South Korea
. It was an amazing achievement that encompassed 6 continents and 22 countries. LG put on a wonderful production that was part cooking show, part cooking contest, part promotion, and a whole lot of fun!
Our flight to Seoul was on Korean Air.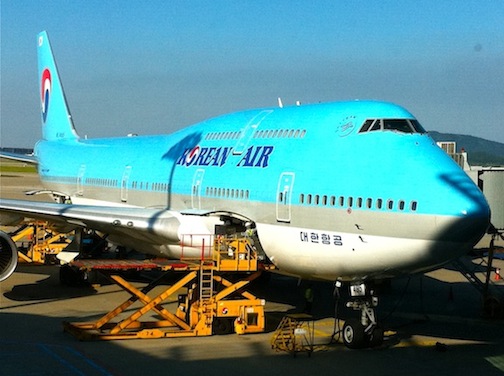 Thanks to LG USA, we flew in Business Class which made the 14 hour flight enjoyable. Each seat was an individual "pod" that reclined almost totally flat. The seat in front never moved so personal space wasn't compromised.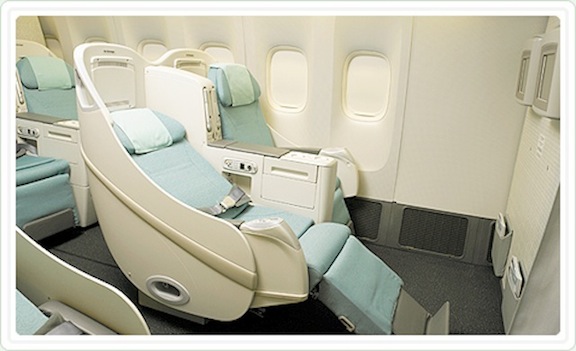 We were in the upper deck of a 747 and the service was impeccable! Two meals and several snacks and movies later, we began our decent into Seoul.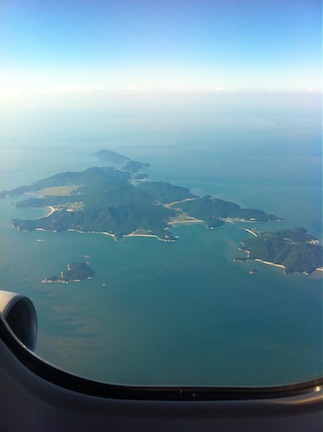 I was struck how clean and new the airport seemed and everyone was helpful and friendly.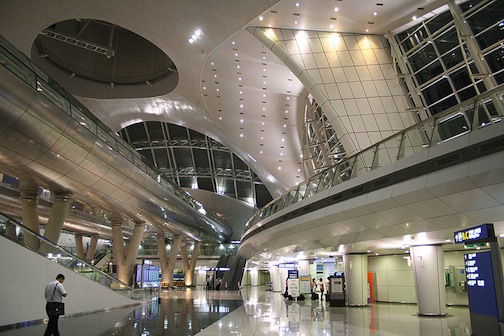 I felt like I had stepped into the land of "nice!" It could have been the jet lag but something told me we weren't in Philadelphia anymore! And even though I was smuggling in some of the ingredients for my recipe (a friend referred to me as a "culinary mule!"), we made it through customs a little jet lagged but excited to start this amazing adventure. The exterior looked oddly familiar to me.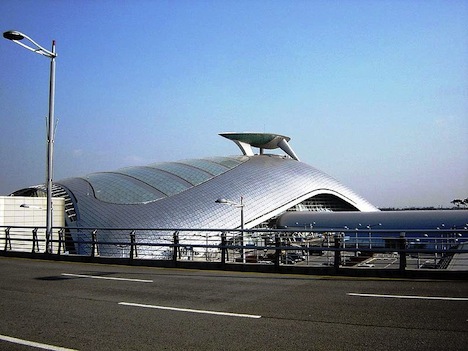 After a 45 minute ride to the hotel, we arrived at Grand Hilton Seoul...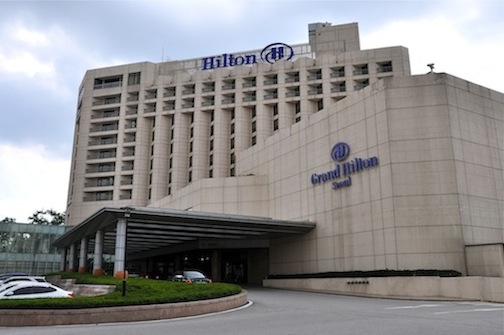 ...and Convention Center where the contest would be held.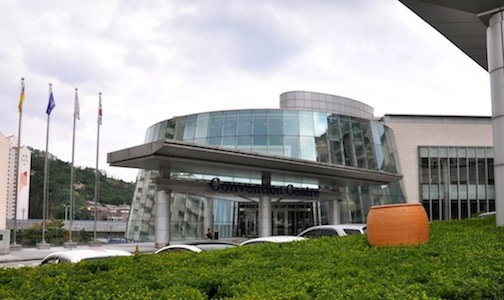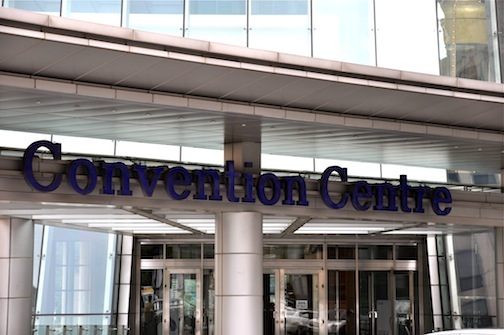 Signs about the event lined the drive--I knew at that moment this was going to be bigger than I had imagined.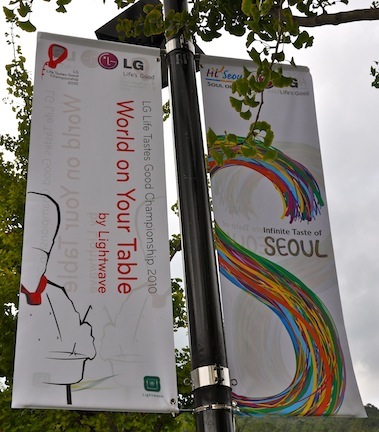 After we got settled into the room, I noticed this perfectly raked peaceful rock garden on top of the roof below.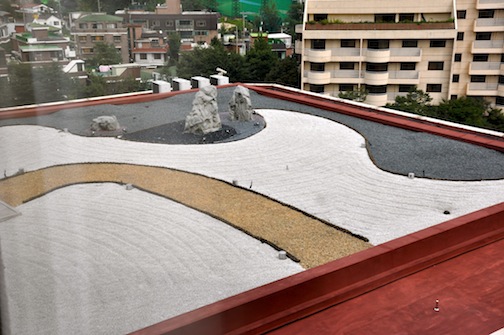 Monday, September 27, 2010.
The first evening, we had the opportunity to see the contest space for the first time. Though it was a work in progress, it was stunning! Crisp and high tech! The thousands and thousands of dollars in Le Creuset colorfully dotting each work space didn't go unnoticed by me.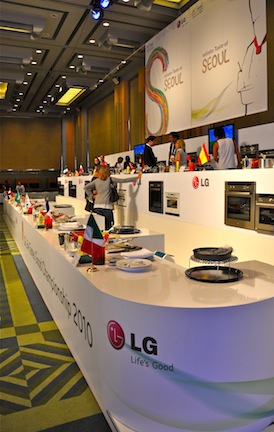 Also, each work space was designated by each finalist's national flag...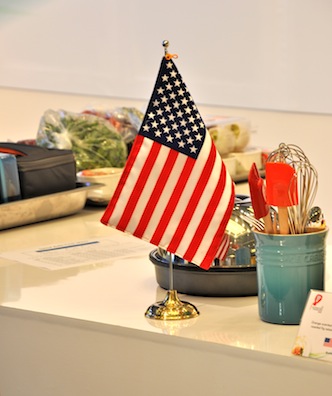 ...and additional information.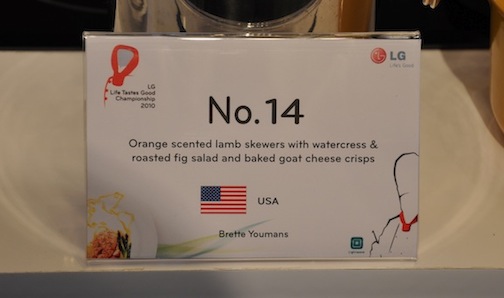 That night we also had the opportunity to see some of our ingredients for the first time...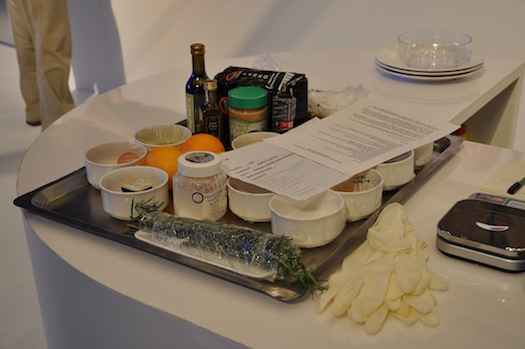 ...and discuss our needs and concerns with the Chef Judges.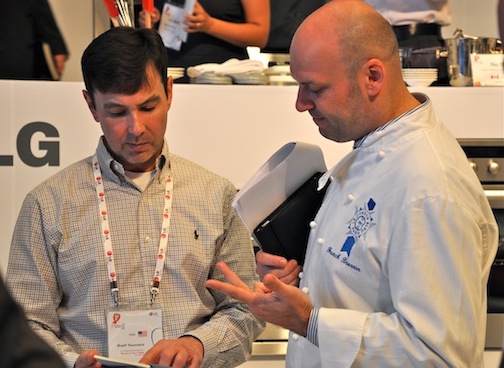 Also, CNN continued their coverage of the event. They were at the cook-off in Beverly Hills and I was delighted to see some familiar faces--they couldn't have been nicer! I learned that the event will air in October on CNN International and The Travel Channel. Tiffany Winter of CNN is here with team USA since the UK didn't send a finalist.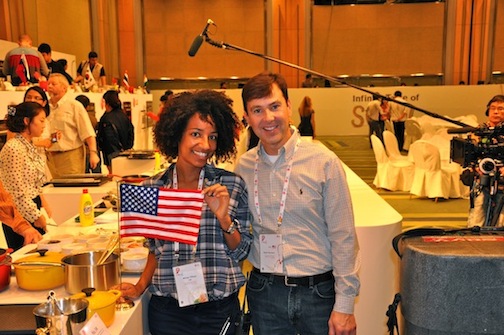 Tuesday, September 28, 2010.
After a good night's sleep, it was time for orientation! We received our chef's whites--it was the equivalent of cap and gown on graduation day!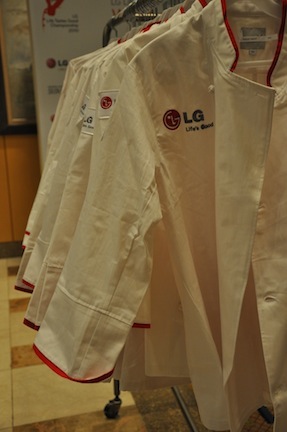 Also that day, I was assigned an interpreter! Sunny Yoo couldn't have been friendlier or more helpful! She even wrote down notes for me about my oven which was in Korean--sort of important to know how to use your appliances in a cooking contest, don't you think?!? She was an angel and took great care of me for 2 days. LG was wonderful to provide this service and even during the dinners, devises were on the tables so guests could listen to the event via live translation. I felt like I was at the United Nations!
We rehearsed a few things for the evening's event as well as for contest day and had out final ingredient check.
That evening, we were treated to a Gala Dinner. The feast was the suggested menu for the G20 Summit to be held in Seoul in November. Chef Edward Kwon's creations were beautiful and tasty!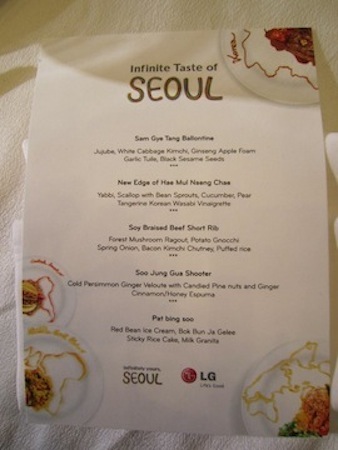 Sam Gye Tang Ballontine
Jujube, White Cabbage Kimchi, Ginseng Apple Foam, Garlic Tuile, Black Sesame Seeds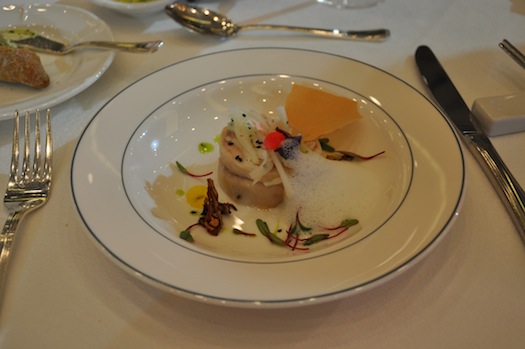 New Edge of Hae Mul Naeng Chae
Yabbi, Scallop with Bean Sprouts, Cucumber, Pear, Tangerine, Korean Wasabi Vinaigrette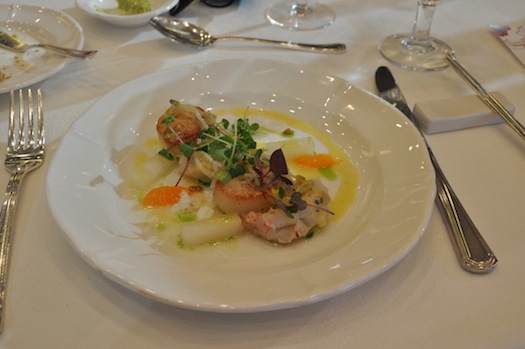 Soy Braised Beef Short Rib
Forrest Mushroom Ragout, Potato Gnocchi, Spring Onion, Bacon Kimchi Chutney, Puffed Rice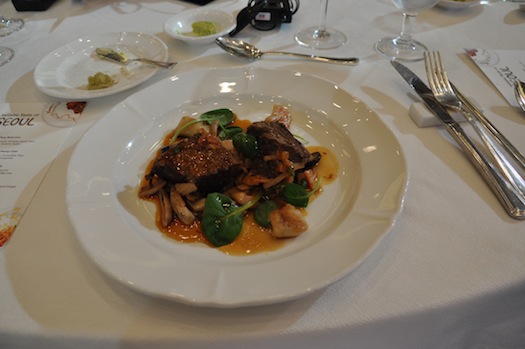 Soo Jung Gua Shooter
Cold Persimmon Ginger Veloute with Candied Pine Nuts and Ginger-Cinnamon/Honey Espuma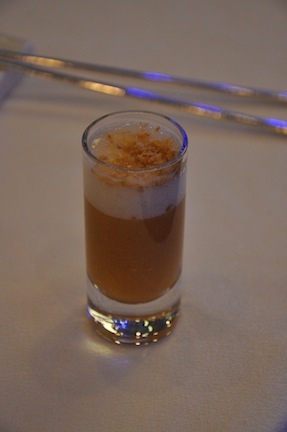 Pat Bing Soo
Red Bean Ice Cream, Bok Bun Ja Gelee, Sticky Rice Cake, Milk Granita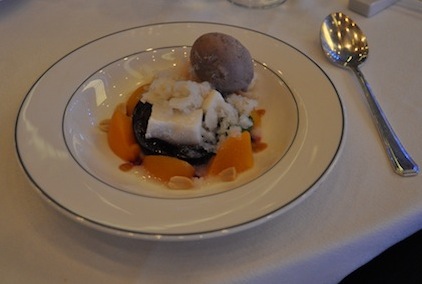 The evening also provided us with a glimpse into Korean culture through dance and music.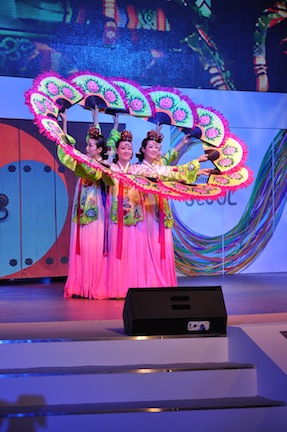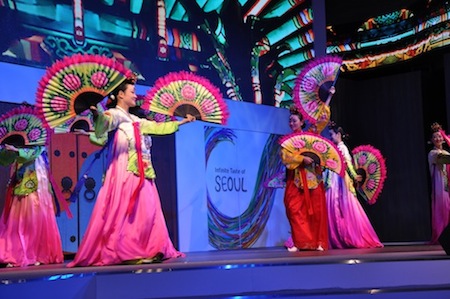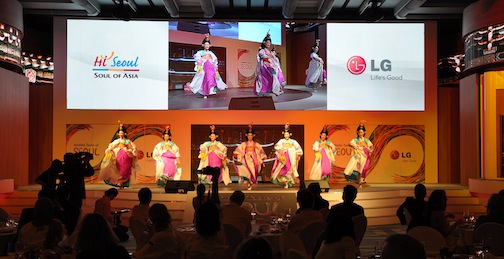 Before we left, there were a few more interviews. Here, South African television grabbed me for a few quick questions.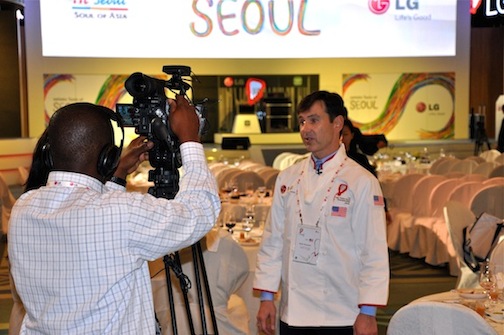 Earlier in the day, 5 of us were selected to represent the group accepting the challenge as Ambassadors to help introduce Korean cuisine to the world. I was presented the award by the Mayor of Seoul City. Complete with a bouquet of beautiful flowers and certificate in hand, it was time for bed!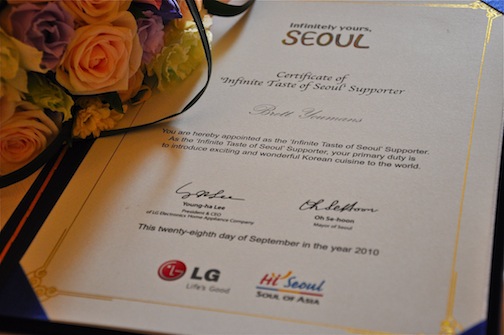 Wednesday, September 29, 2010.
Game day!
The venue was sparkling! LG had their product line front and center.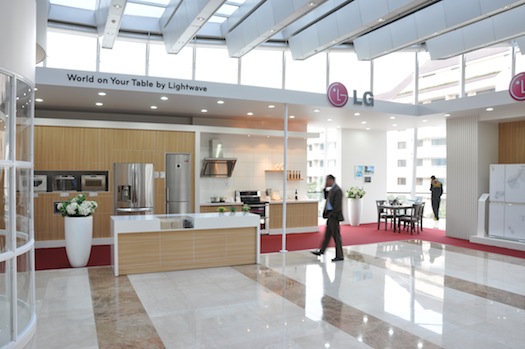 And, there was a red carpet!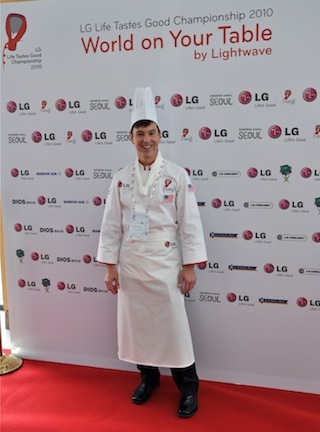 Team North America was ready for some fun! The fabulous Bonnie Young of Canada made this event special for me and I couldn't imagine it without her. The entire Team Canada took me under their wing since the US had no reps there. A special thank to Frank Lee of LG Canada and Colleen Tully of Canadian Living, the sponsor of the LG Canada event, for being so gracious to this lonely American!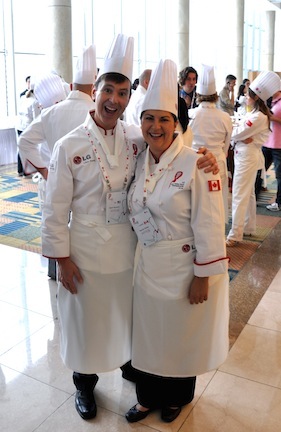 News Flash... It turns out in the events leading up to this Global Competition, there were different rules for each country: Some were professionals, some in culinary school, some were teams of 2--but even with these obstacles, I was determined to have a great time and simply do my personal best. While some may have shown up with more skills and techniques than I have, what they didn't have was my passion and excitement for representing the USA to the best of my abilities and to enjoy each and every moment of this exciting event.
The venue was stunning!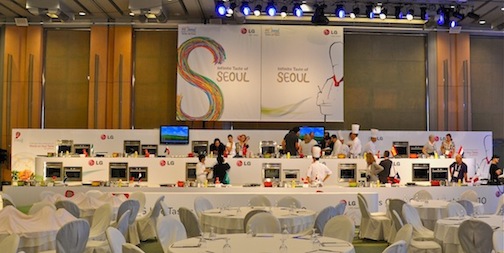 The hosts did a fantastic job--Korea's own pop star and TV personality.
When it was my turn, the American flag flashed across the screen...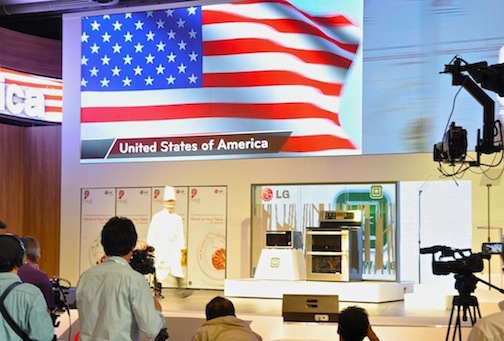 ...and then my recipe.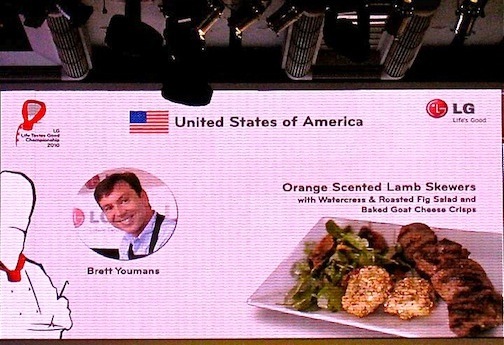 I then took my place at my work station...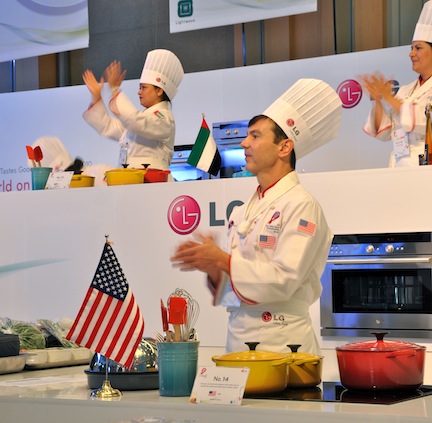 ... to wait for the clock to start!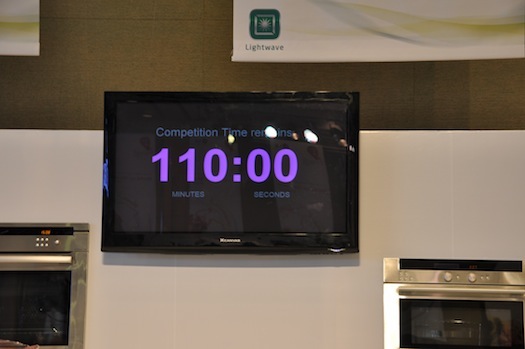 Next, it was time to cook! Oddly, I wasn't the least little bit nervous--I was, however, determined to enjoy every moment of this and have no regrets when it was over. It was a whirlwind from the beginning with all of the media and cameras. But, I had learned my lesson back at the Pillsbury Bake-Off Contest in April and just blocked everything out. After all, I had bigger concerns--like figuring out the Korean instructions on the appliances!
I did take a moment to take a picture of the media near my station--it was crazy!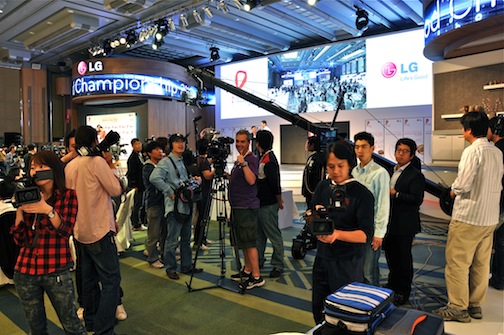 All of the finalists were busy at work. I have to admit that at one point I really wished I was a team of 2!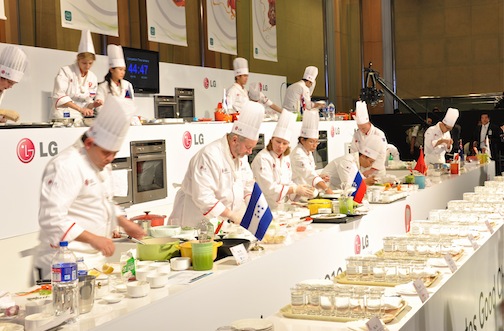 Meat grilling...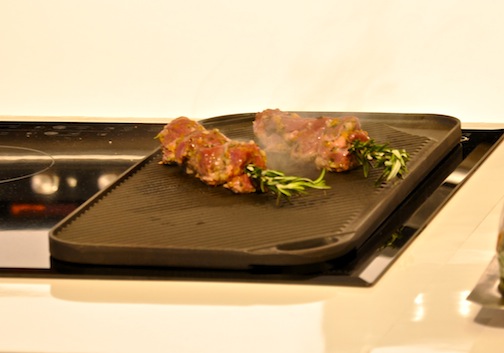 Salad tossing...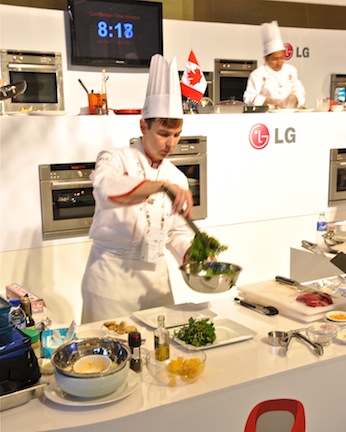 Time to plate!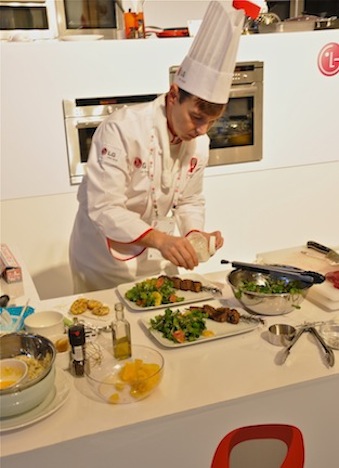 With 3:30 minutes left on the clock, I was finished! I had a blast and was happy with the food I produced. While there were more elaborate dishes, mine was real food--full of flavor and not intimidating. I was proud that I accomplished what I had set out to do.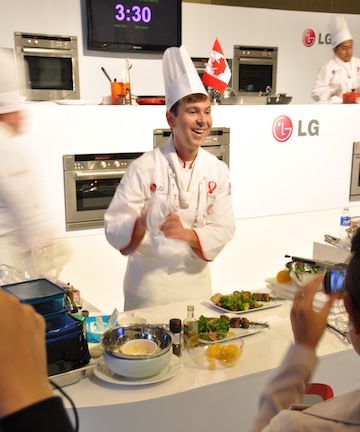 Time for judging...
The score sheet: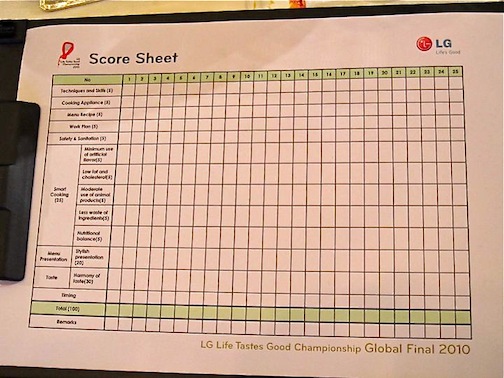 At each dish, there were setups with utensils and water for the judges.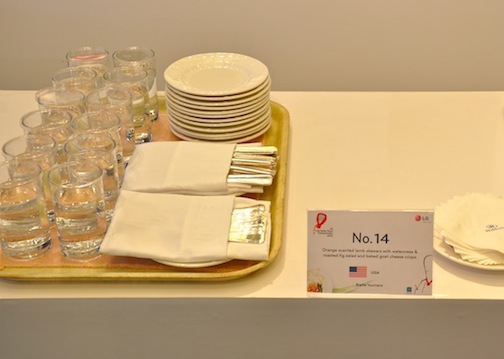 Then, one by one, the judges stopped by for a sample. Chef Kwon loved my dish and said he thought I should open my own restaurant! As head chef of the Burj Al Arab Hotel in Dubai--the world's only "seven star" hotel--I'll take that as a compliment!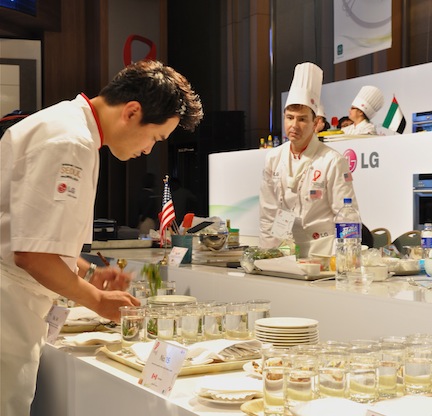 Known as Iran's Martha Stewart, Chef Sanaz Manaie has her own television show and magazine, and has published numerous books.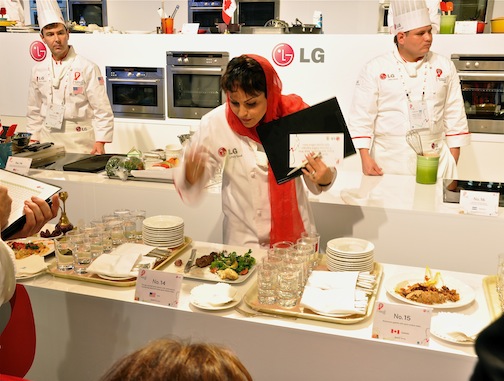 Here, she says to me that she loves it and asks what's in the marinade. Coming from the land of kabobs, that's a HUGE compliment! Earlier in the contest, she stopped by and tasted my vinaigrette.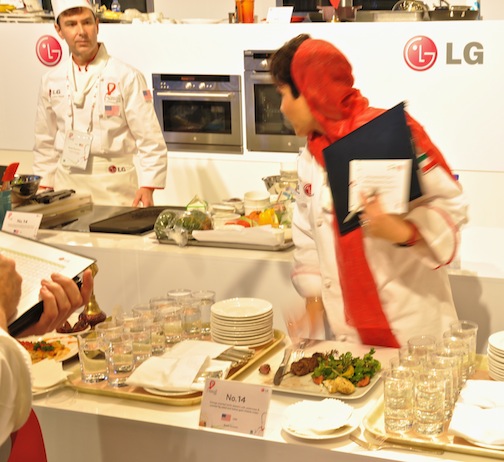 Next to stop by was Guy Martin of France. Can you say 3 Michelin Stars?!? He has more than a dozen cookbooks. He was kind and quiet and difficult to read...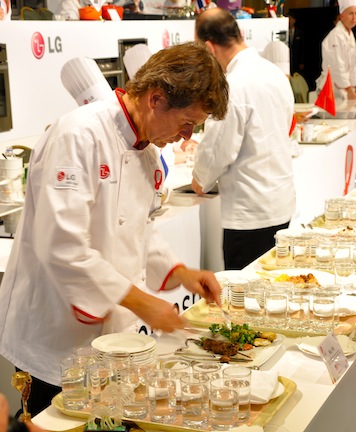 In total, there were 8 LG executives and 4 world renowned chefs who served as judges for this event. While the score sheets were tallied, time for more interviews!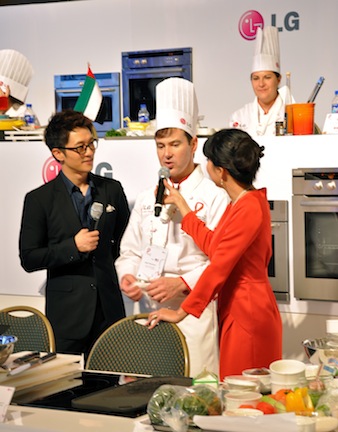 The media was in place in front of the display dishes and stage awaiting the announcement.
Then, it was time to announce the winners! I think I was stunned at this point--having seen some amazing creations, I didn't think I stood a chance. But, when my name was called, I just hoped it wasn't for the "Biggest Loser" award!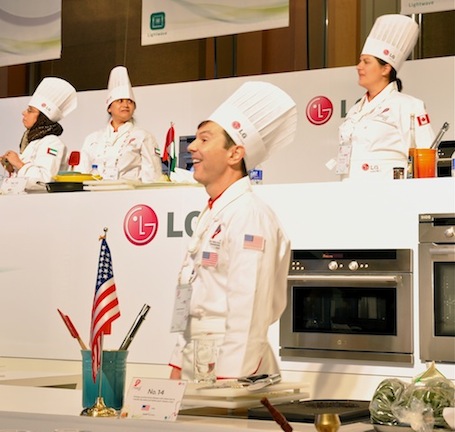 It turns out that I had won the "Infinite Taste of Seoul" Award. Besides the big prize, I would have picked this prize if given the choice. It encompassed the theme of this experience and was presented by the City of Seoul--it truly has special meaning for me.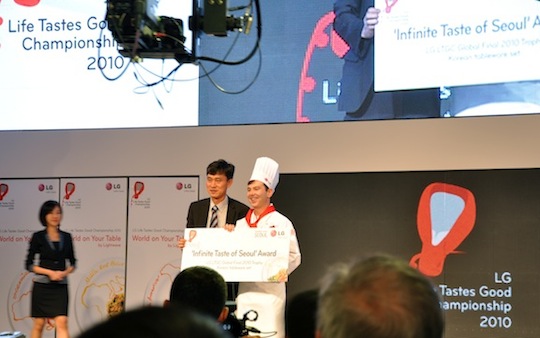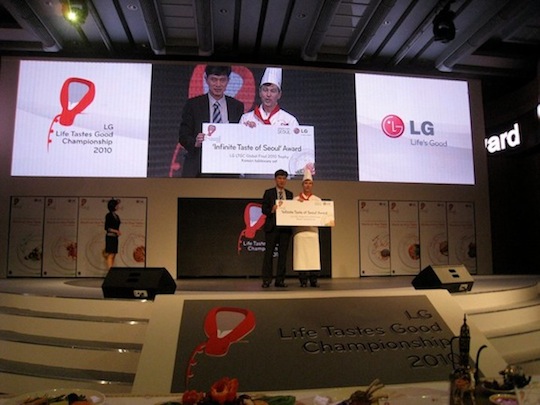 After each award was presented, I realized what a lucky guy I am!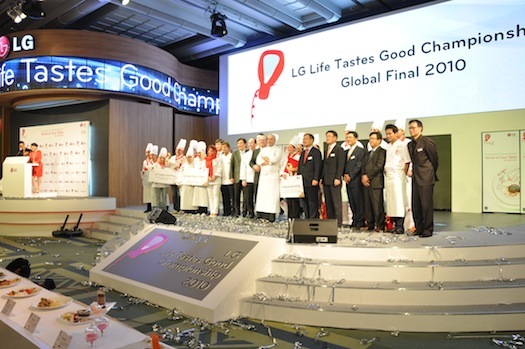 After the winners were announced, all of the finalists were invited on stage for a photo op. I'm in the front row by the LG President. It's a little too late at that point to ask for my oven to be converted to English, I guess...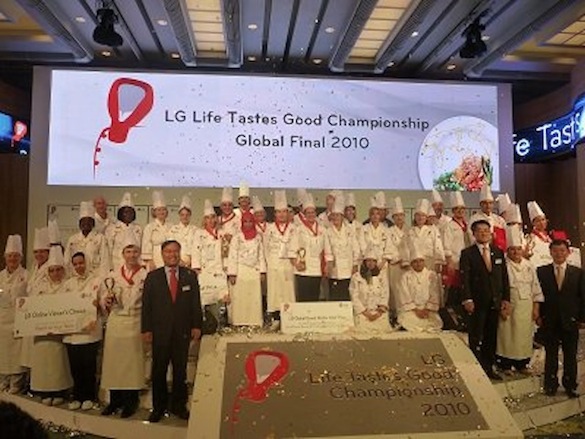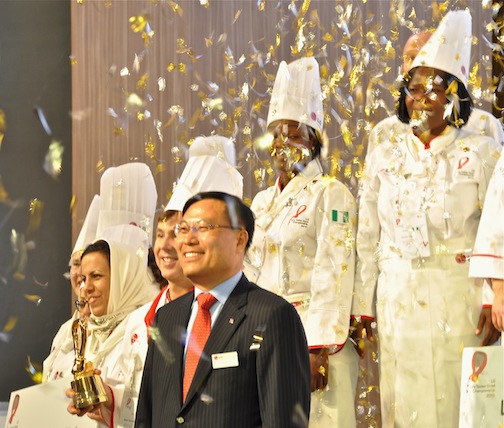 My award weighs about 10 pounds!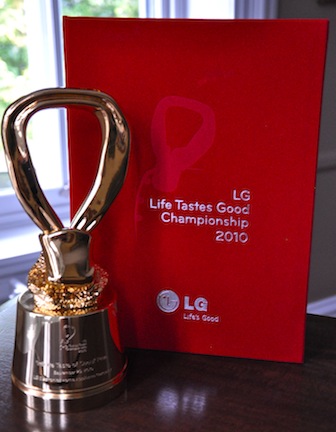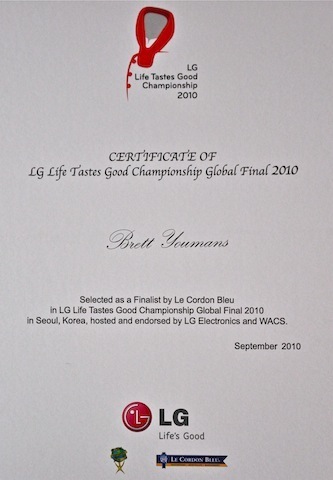 I was presented with a set of exquisite fine bone china from the City of Seoul. From Korea's own Hankook Chinaware, these pieces are beautiful.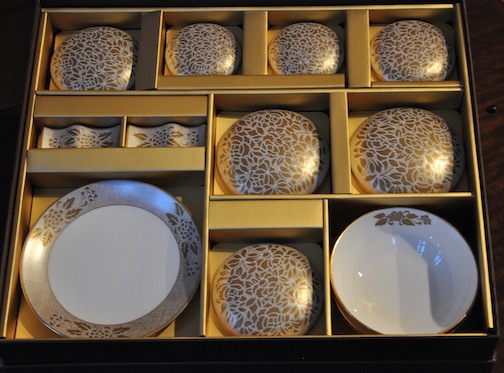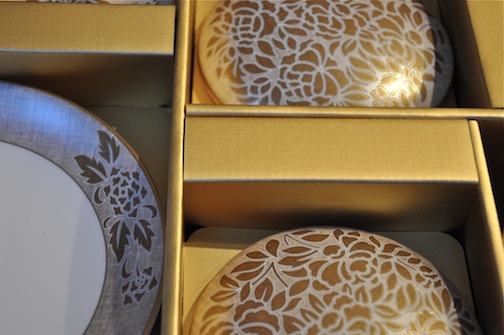 Here I am with Chef Franck Bruwier of Le Cordon Bleu. He told me he thought I had won... He was amazingly helpful--nice, thoughtful chef. He fought to get me the best watercress available in Korea!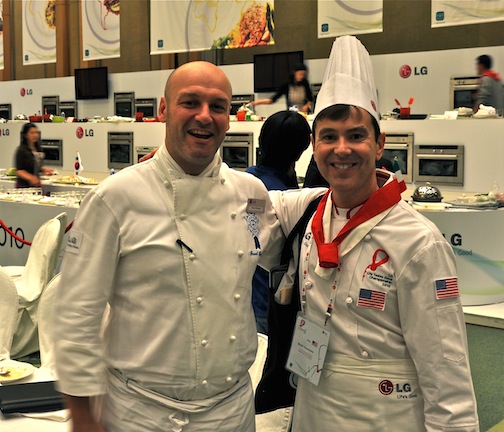 Chef Gissur Gudmundsson is President of the prestigious World Association of Chefs' Societies. He was full of helpful info and wanted us all to do our best.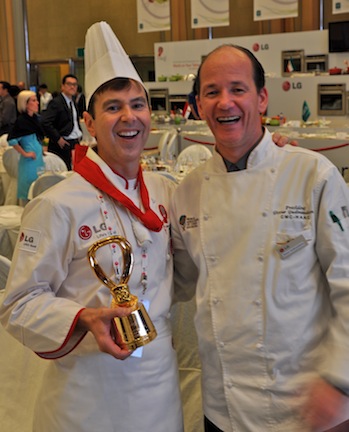 The awesome Chef Edward Kwon!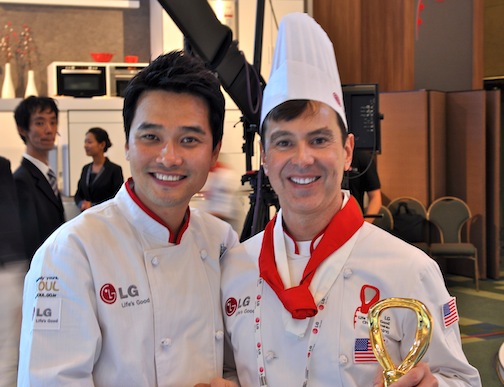 The wonderful Caroline Boutoille of France, who cooked "Barbecued Pork Tenderloin with Rosemary, Mashed Cauliflower and Broccoli Meal, Frozen Vegetables, Red Pepper Emulsion" won the LG Global Grand Master Chef Prize. I had the pleasure of spending 2 days with Caroline and I am thrilled that she won this! A special lady that I am happy to call friend.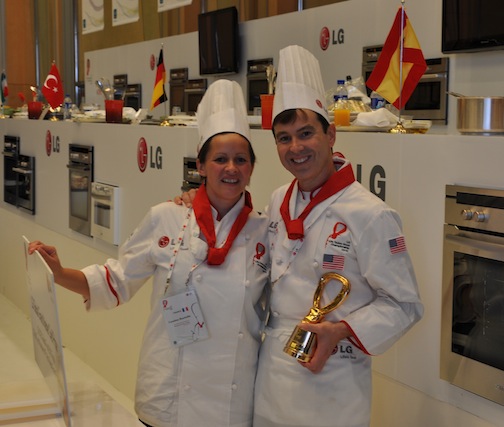 Before the evening was over, I had one last interview with the CNN team. Adam Woods and Tiffany Winter were fantastic and it was a pleasure to meet them both--great ambassadors for journalists worldwide!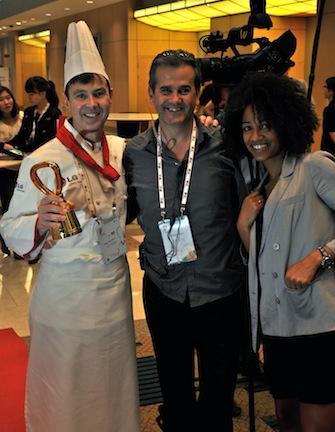 My friend Yelena Lim captured photos of many of the finalists and their amazing dishes. Check them out by
clicking here...
When we returned home, I was greeted by an
article in my local newspaper, the

Reading Eagle.
My mug was on the front page!!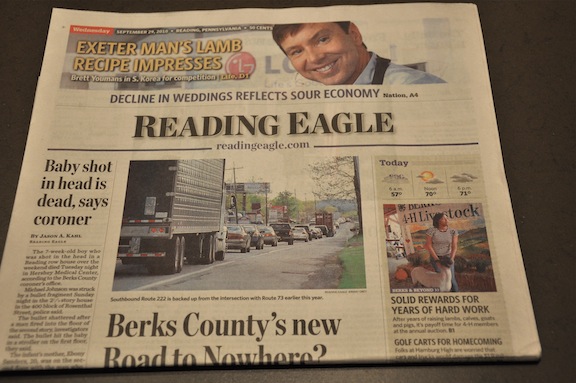 The article was in the Life section--almost a full page...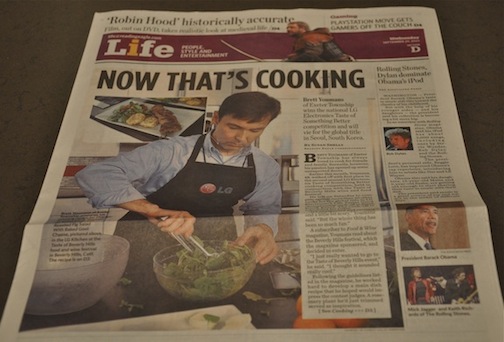 ...and was continued on the next page. Susan Shelly of the
Reading Eagle
did a fantastic job and it was a nice homecoming surprise! Thanks Susan!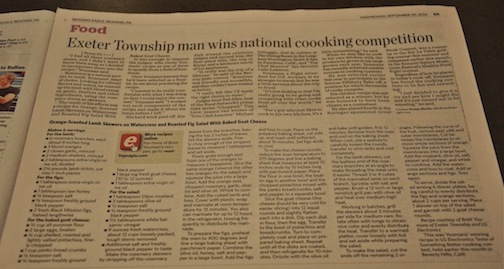 Here's a
follow-up article
that appeared the following week.
The next installment will include a recap of our time in the beautiful City of Seoul.
A special thank you to Rich for taking all of these pictures, for being a sherpa, and an all around great sport as I live this adventure...