First, winning is much better than the alternative! I had told myself that the real prize for me was Food & Wine's "
Taste of Beverly Hills
" event. But, in the days leading up to the event, I began to feel a little more competitive and decided that I was in it to win it! Having been to 3 different contests recently, I felt I could
write
a great recipe but what I really wanted to do was actually
execute
my recipe with a win. With that goal in mind, I arrived in Los Angeles ready to have a great time and win this one!
After a comfortable flight in first class, we were met with a car service and whisked to the Beverly Hilton. Home to red carpet events throughout the year, it was a beautiful property.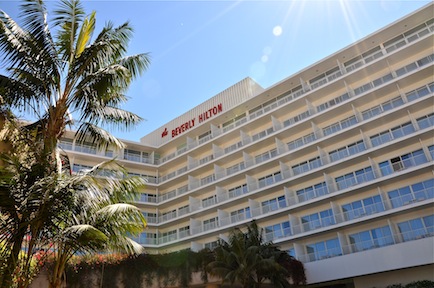 When we arrived in the room, a gift bag--swag!--from Food & Wine was waiting for me.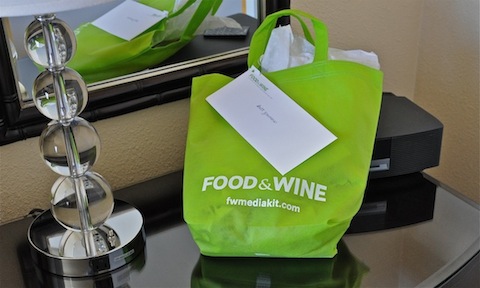 After a quick meeting with the LG and Food & Wine teams to go over the contest day schedule, we were treated to the most amazing meal hosted by the wonderful folks at LG. It was at
The Bazaar
at SLS Hotel. Difficult to articulate, the entire experience--food and setting--was amazing. And, even with the impending contest looming, we all had a fantastically relaxed time.
When we returned to the hotel, we could see the event going on from our hotel window.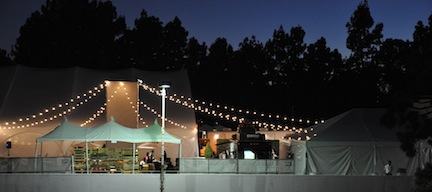 So, even as tired as we were, Rich and I ventured out to check out the action!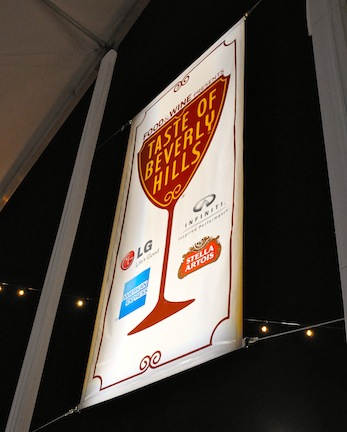 Only in LA: A red carpet!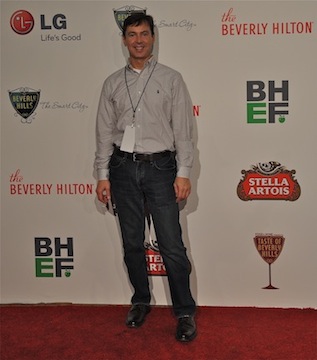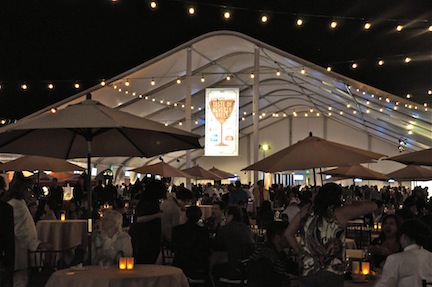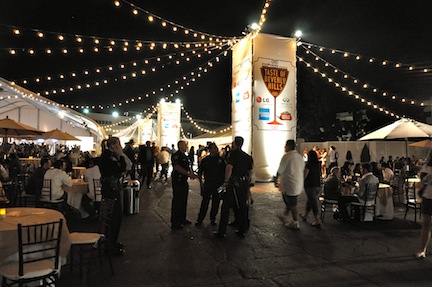 Earlier in the evening Larry King and the Kardashians had received keys the city.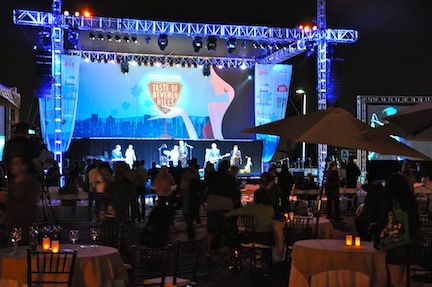 Then, the musical guests entertained throughout the evening.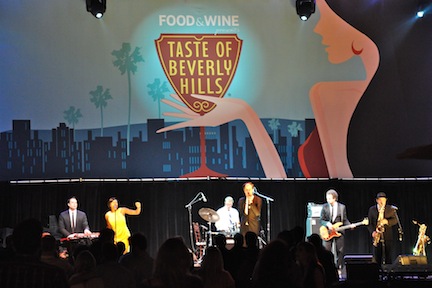 There was food everywhere from some of LA's top restaurants. From recipes inspired by
molecular gastronomy
like this interpretation of bruschetta...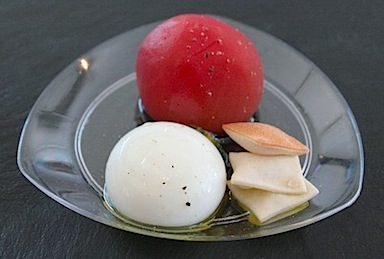 ...to the made-to-order sushi bites from the chefs at Katana...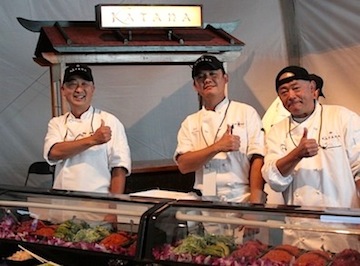 ...the dishes were intriguing and begging to be sampled!
Cured barramundi from Tom Colicchio's Craft was amazing!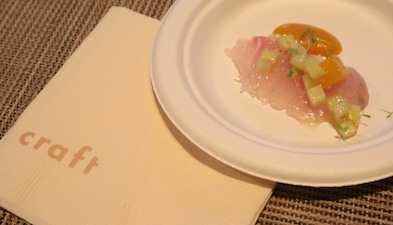 Chef Nancy Silverton manned the booth for her Osteria Mozza, offering a creamy cup of perfection disguised as a butterscotch budino.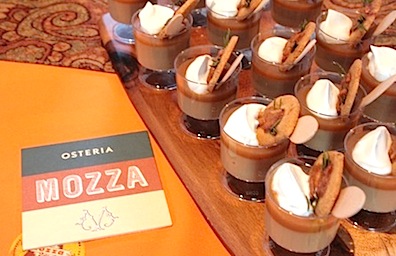 For breakfast, how about a banana crepe with Nutella foam and a bloody Mary?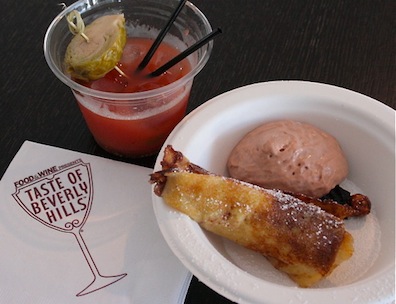 Inspiration was all around for this foodie! The cooking demonstrations were fun and informative. Chefs Tim Love...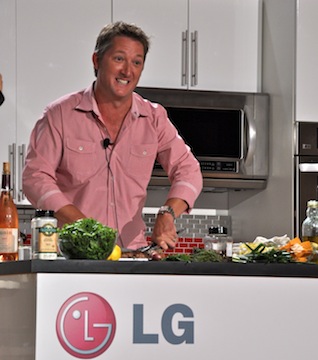 ...and Ludo Lefebvre presented demos for the evening, showcasing their respective cooking styles for the happy crowd.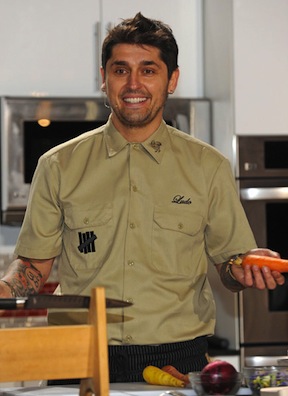 For his demo, the personable Scott Conant presented tips and tricks for making the best pasta and sauce at home, demonstrating the art of handmade noodles with a fresh marinara sauce.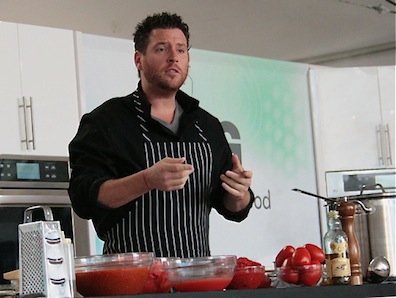 Art Smith was a Southern treat!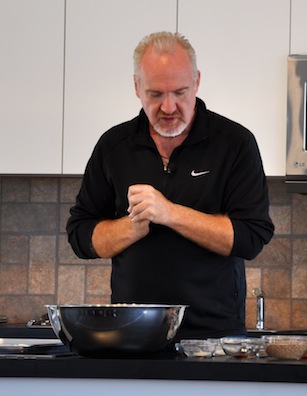 And Ted Allen was informative, approachable, and fun to watch.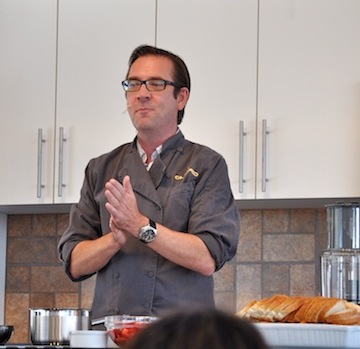 For the entire weekend, the LG team was incredibly supportive, enthusiastic, and interested in the finalists. They sincerely wanted us all to have a fantastic time and do the best in the competition that we could possibly do. And the Food & Wine team pulled off a flawless event that I hope will become an annual affair!
After a good night's sleep, it was show day! CNN was there filming the event for a special to air in October. There was really no time to get nervous since we were shuttled from interview to interview. Then,
finally
, it was time to prep our dishes! We were assigned to a space in the bowels of the venue to prep our dishes. We were also required to prep additional parts of our recipes for live demos during the show.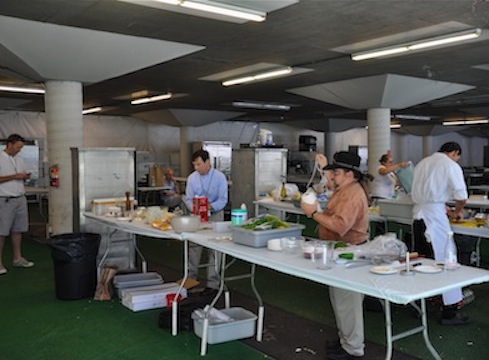 Then it was SHOW TIME! The sold-out, standing room only crowd was ready for a contest!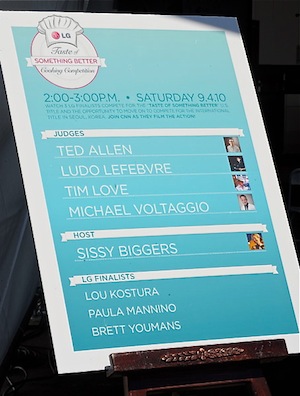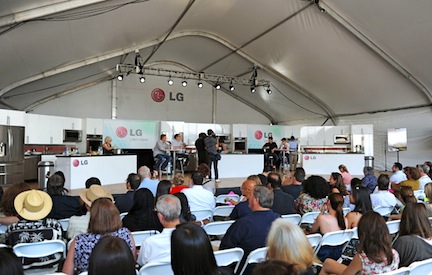 Placed on each seat in the audience, was a description of the event. Every detail was well thought out...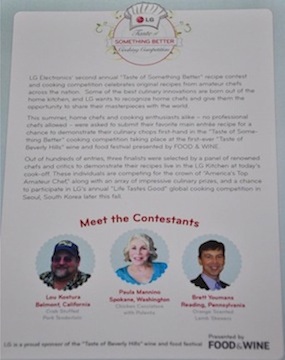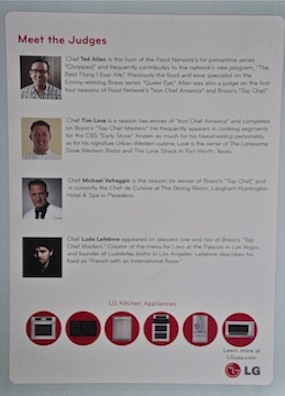 There were cameras everywhere capturing every moment of the action!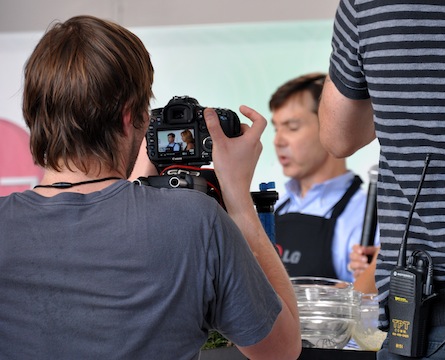 The clock ticking, it was time to get down to business!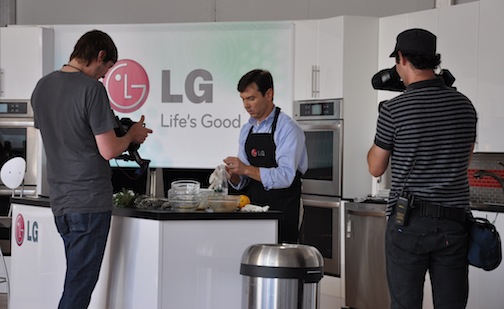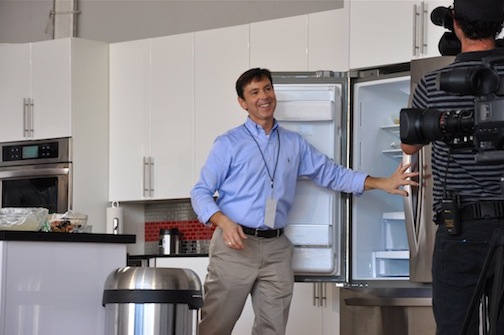 The stage was divided into three kitchens with amazing state of the art, brand new LG appliances. A major part of making a successful dish is having the right appliances and the LG appliances certainly made it fast and easy.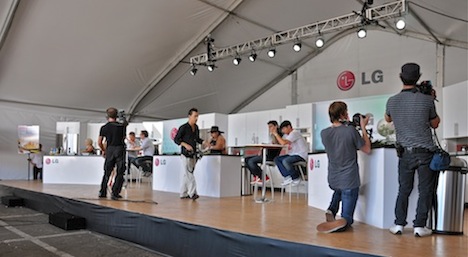 The judges were on stage with us during the contest and were free to walk around and ask us questions.
On one side of the stage, there was Chef Tim Love, season two winner of "Iron Chef America" and Ted Allen of Food Network's "Chopped."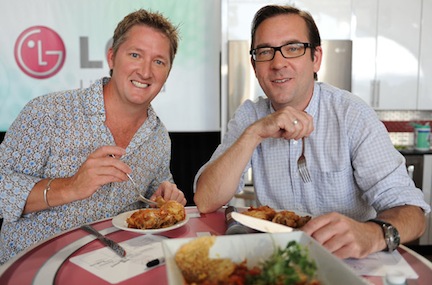 On the other side of the stage was "Top Chef Masters" fan favorite, Ludo Lefebvre and Michael Voltaggio, Chef de Cuisine at
The Dining Room
, Langham Huntington Hotel & Spa in
Pasadena
and last year's "Top Chef" winner.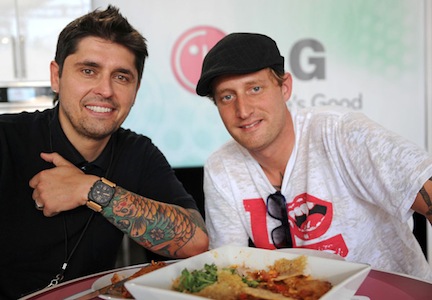 Here, Michael asked me about my dish.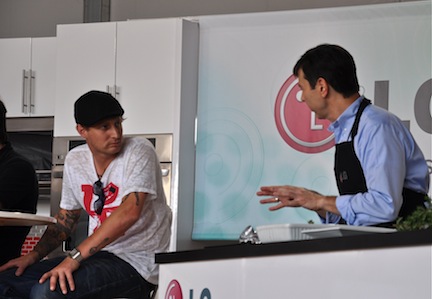 Then, Chef Tim Love stopped by to chat.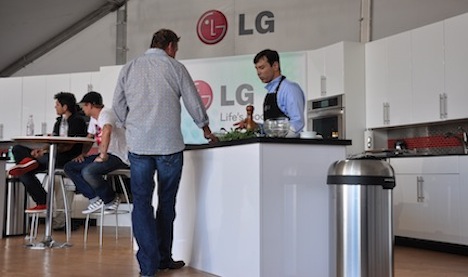 These guys were amazing--having been through similar situations, they were respectful and supportive, and
FUN
!. The culinary talent that was on the stage that day was mind blowing to this amateur home cook! Seriously folks, I was cooking a dish that was about to be served to some of this county's most well-known celebrity chefs and
<gasp!>
I was having a great time!
The relaxed atmosphere allowed the finalists to also have time for some casual chat as well.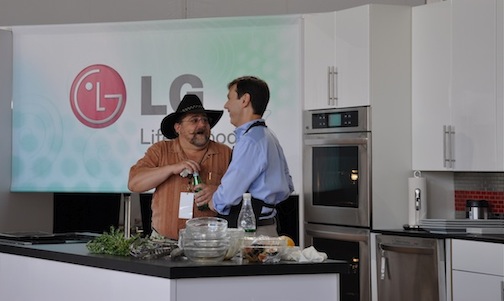 Lou Kostura
of
Belmont, California
had a delicious dish of "Crab Stuffed Pork Tenderloin" while...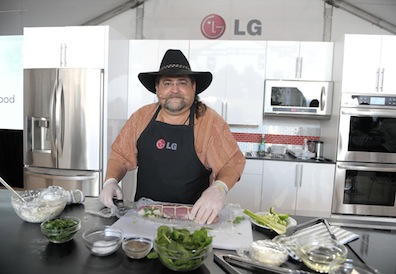 ...
Paula Mannino
of
Spokane, Washington made her
"Chicken Cacciatore with Polenta."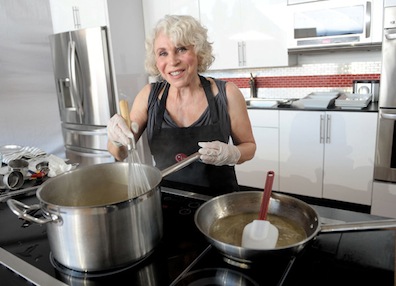 And, here I am preparing my "Orange Scented Lamb Skewers Atop Watercress and Roasted Fig Salad with Baked Goat Cheese Crisps." Yep, I should have won simply for having the longest title!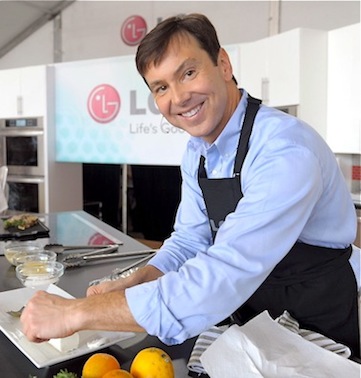 Time to grill the meat!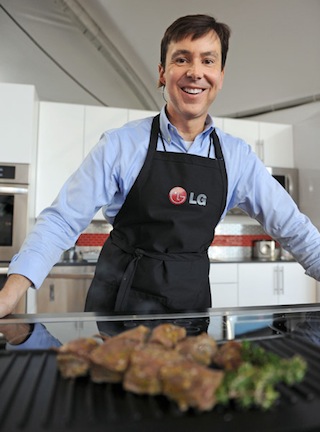 I was begging this meat to cook perfectly!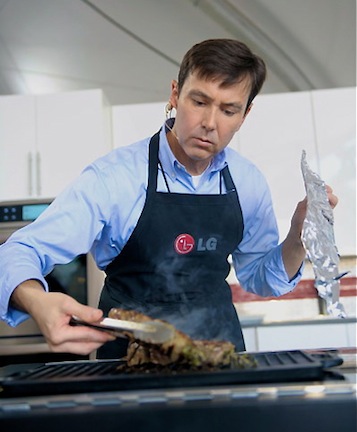 And then, it was time to let it rest...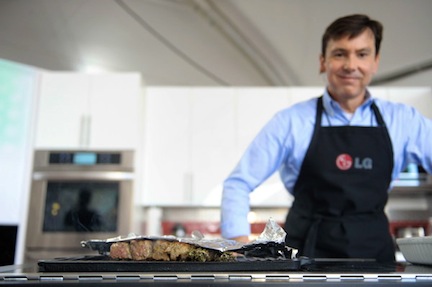 I had timed the roasted figs and goat cheese crisps to come of the oven just in time for plating. The LG double wall oven made that a piece of cake!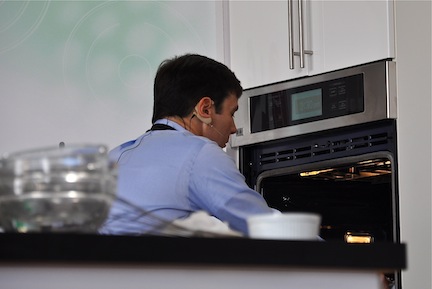 Next, it was time to plate my dish.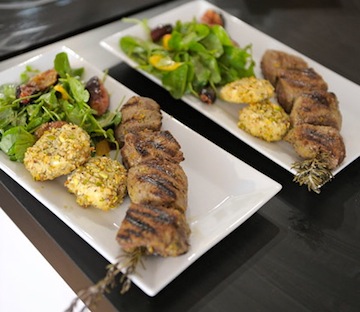 I was happy with the way everything turned out--even with the challenges of cooking in an unfamiliar setting, I was proud of my dish...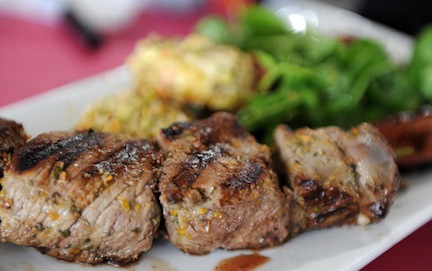 ...and now, it was in the hands of the judges.
I was relieved that I accomplished what I had set out to do!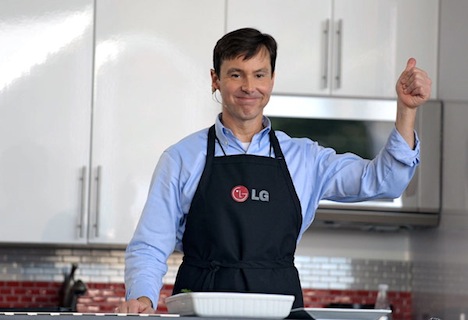 We then had to present our dishes to the judges and answer their questions.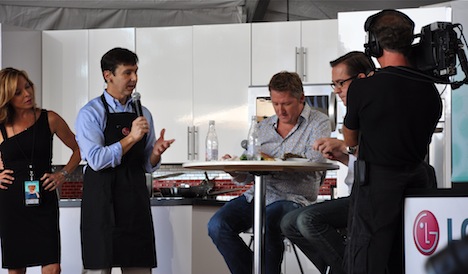 LG had installed huge flat screen TVs so the audience could see everything close-up.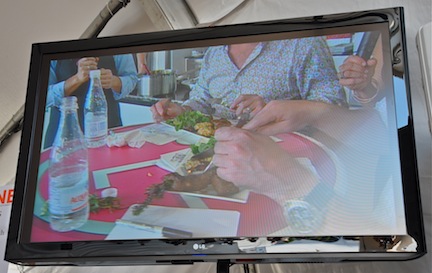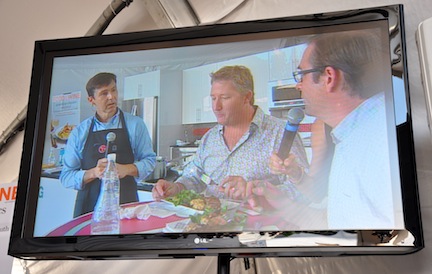 While the judges deliberated, host Sissy Biggers kept the crowd on the edge of their seats.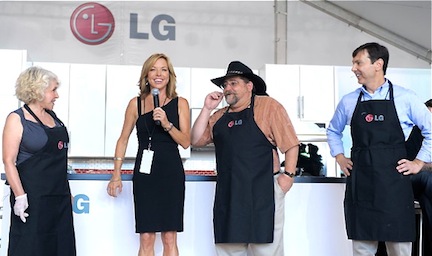 At first, I thought it was going to be intimidating, but competing in from of an audience was a lot of fun! Now, as we waited, I started feeling the intensity of this day...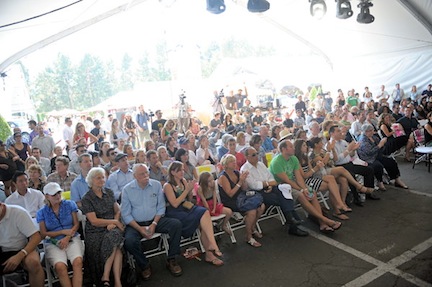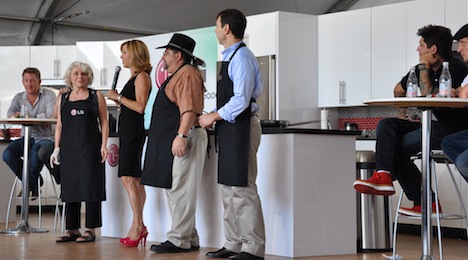 Paula was announced the second runner up so it was down to Lou and me...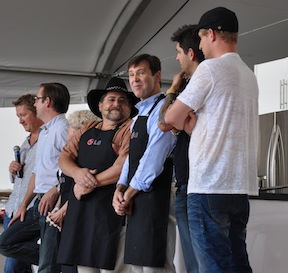 Then, I was announced as the winner!
Link: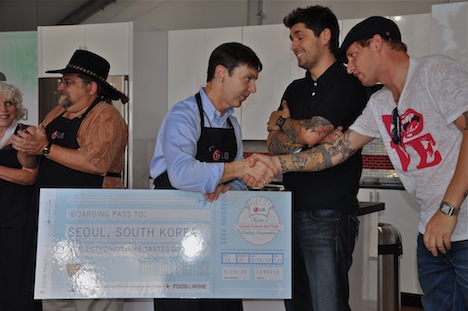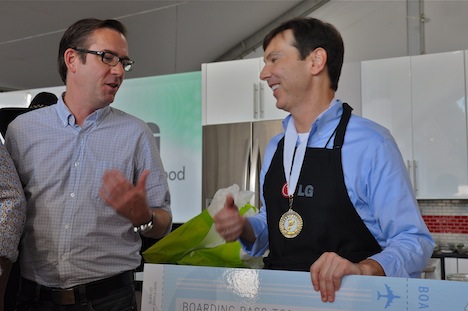 Time to smile pretty for the camera!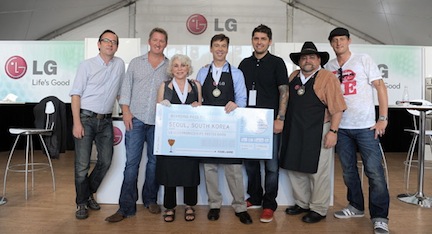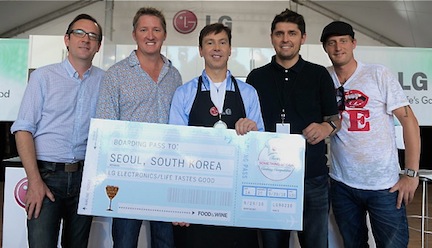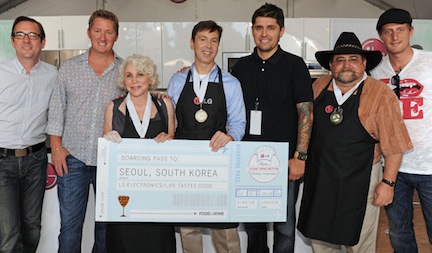 The mayor of Beverly Hills wanted some camera time too!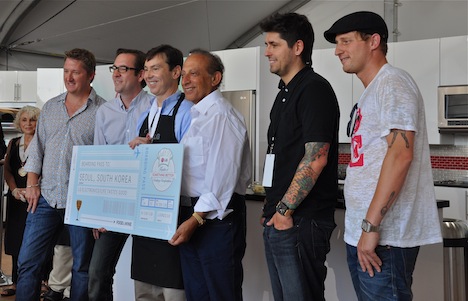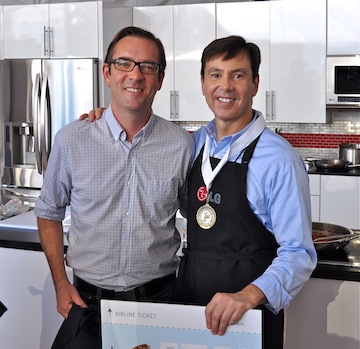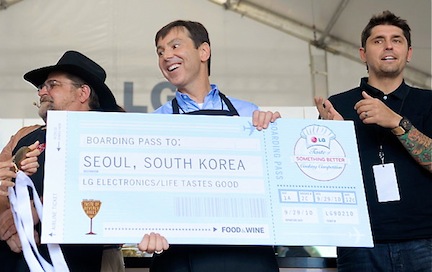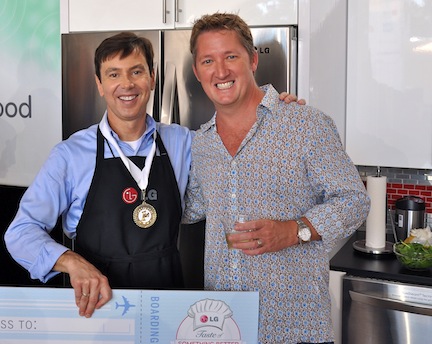 Team LG: Ellis and Jennifer. These guys were awesome and made the event special for me!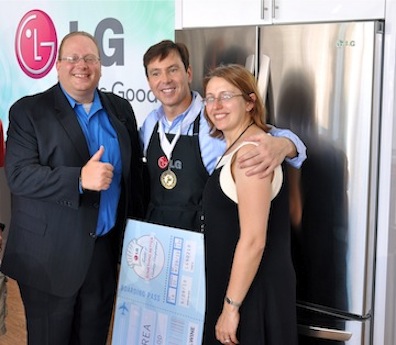 LG Exec John and host Sissy Biggers--both fantastic hosts!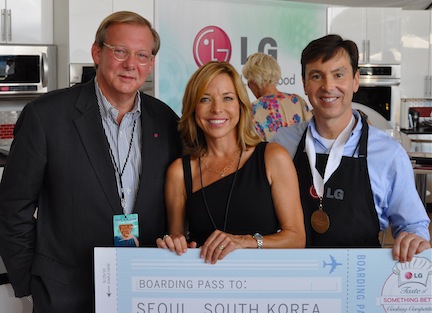 Then it was time for more interviews...
CNN...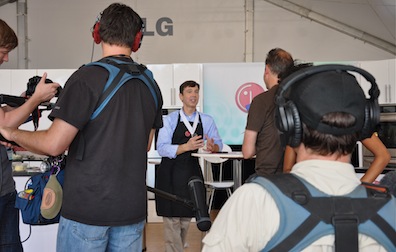 Good Day LA... And several others I can't remember...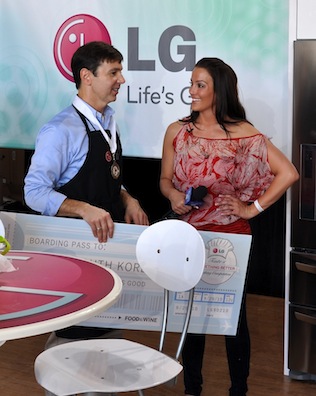 I was presented with a beautiful cutting board to commemorate this event.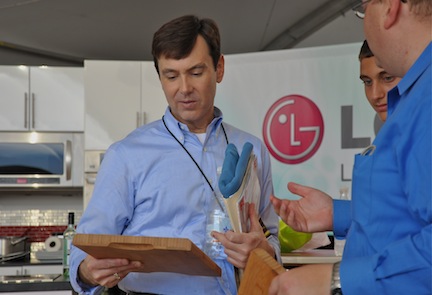 ...and, I was awarded a medal.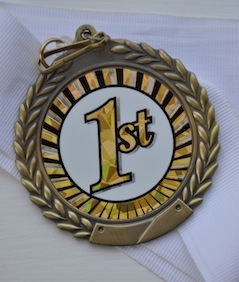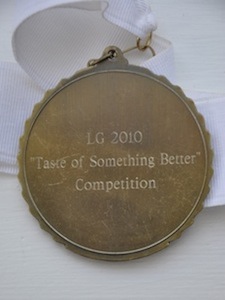 I had an amazing time at this event and I'm looking forward to representing the US in Seoul at the Global Competition at the end of the month. Lots of unknowns about that one, but I plan on approaching it with the same sense of amusement and fun as I did here! Win, lose, or draw, it will an experience that only comes around once in a lifetime...
Seoul, here I come! Thank you LG and Food & Wine for a beautifully exciting weekend!!!
*A special thanks to Rich for taking many of these fun pictures for me to be able to share! Since everything was a blur, it helps to see what actually happened!!
Press Release:
America's Top Amateur Chef Crowned at LG Electronics' 2010 'Taste of Something Better' Cooking Competition
Brett Youmans from Reading, Pa. to Represent United States in 'Life Tastes Good' Global Cooking Competition
BEVERLY HILLS, Calif., Sept. 5 /PRNewswire/ -- As the heat was rising in the LG Kitchen at the first-ever "Taste of Beverly Hills" wine and food festival presented by FOOD & WINE, a distinguished panel of celebrity chefs proclaimed Brett Youmans from Reading, Pa., America's "Top Amateur Chef" in the second annual LG Electronics USA "Taste of Something Better" cooking competition.
The winner took home an impressive prize package, including a complete LG kitchen makeover and the opportunity to represent the United States in LG's global 2010 "Life Tastes Good" Championship taking place later this month in Seoul, South Korea, with more than 20 representatives from across the world competing for the global title.
With just under an hour on the clock, competition finalists – Youmans, Paula Mannino of Spokane, Wash., and Lou Kostura of Belmont, Calif. – worked furiously in the LG Kitchen to perfect their culinary masterpieces. Judging the competition was a world-class team of celebrity chefs: Ted Allen, host of the Food Network's hit primetime series "Chopped," Tim Love, season two winner of "Iron Chef America," Michael Voltaggio, Chef de Cuisine at The Dining Room, Langham Huntington Hotel & Spa in Pasadena, and "Top Chef Masters" fan favorite, Ludo Lefebvre.
After the judges conferred and deliberated, Youmans was crowned the winner for his orange scented lamb skewers atop watercress and roasted fig salad with baked goat cheese crisps prepared on the LG induction cooktop. Kostura was awarded first runner up for his crab stuffed pork tenderloin cooked to perfection using the LG built-in wall oven, while Mannino took home second runner up for her chicken cacciatore with polenta recipe using the induction cooktop and LG over-the-range microwave with warming lamp technology. Lifestyle expert Sissy Biggers, who has been showcased on Food Network's "Ready, Set, and Cook!" and ABC's "Extreme Makeover," served as emcee for the Beverly Hills cook-off and festivities.
"It was a great experience to compete in front of an audience, and have my dish judged by such culinary talent. All of the finalists did a fantastic job, and it was exciting to compete against them," said Youmans. "I'm thrilled to be going to Korea to represent the U.S. in LG's global cooking competition."
The three finalists, having traveled from various places across the country to compete in the competition, were chosen from hundreds of submissions in an LG-sponsored recipe contest announced earlier this summer.
"LG's 'Taste of Something Better' cooking competition is truly a celebration of the home chef and the many creative recipes that are born out of the home kitchen," said Ellis Mass, Brand Director, Home Appliances, LG Electronics USA. "Today, I had the pleasure of presenting the award for America's 'Top Amateur Chef' and seeing the culinary prowess that LG hopes to encourage in the kitchen by providing the tools needed to tackle any cooking challenge - whether entertaining for a group like today or a simple family meal."
Although Youmans took home the grand prize, none of the contestants went home empty-handed. The three prize packages included:
Grand prize: Youmans earned a trip for two to

South Korea

to compete in LG's global cooking competition, a premium LG kitchen package, including gas cooktop, double wall oven, 4-door French-door refrigerator, dishwasher and microwave oven.
Runner-up: Kostura won a complete LG premium appliance package including gas cooktop, double wall oven and 4-door French-door refrigerator.
Second runner-up: Mannino was awarded an LG double wall oven.
About LG Electronics USA
LG Electronics USA, Inc., based in Englewood Cliffs, N.J., is the North American subsidiary of LG Electronics, Inc., a global force and technology leader in consumer electronics, home appliances and mobile communications. In the United States, LG Electronics sells a range of stylish and innovative home entertainment products, mobile phones, home appliances and business solutions, all under LG's "Life's Good" marketing theme. For more information, please visit www.LG.com.
About Taste of Beverly Hills
The "Taste of Beverly Hills" presented by FOOD & WINE, will benefit the Beverly Hills Education Foundation and will take place across from the Beverly Hilton Hotel September 2-5, 2010. The schedule of activities will include afternoon and evening sessions, and will range from local restaurant tastings, wine and mixology seminars, to cooking demonstrations from the city's most sought-after chefs as well as America's celebrated chefs and personalities, and live entertainment from some of the music world's most respected artists. Tickets will be available starting July 14, 2010 for $125 per person, with advance purchase, for a day session pass; $150 per person, with advance purchase, for an evening session pass; and $500 per person for an all-access weekend packages that will allow guests into afternoon and evening sessions, seminars, how-to's, and chef demos, competitions, and more. Hotel weekend packages will also be available for visitors to the city on Labor Day weekend. For further information on these and other festival news and updates please call 877.434.TOBH (8624) or visit www.thetasteofbeverlyhills.com or find more information on Facebook and Twitter.
SOURCE LG Electronics USA, Inc.