The interior stair project is well underway and pictures will be posted soon. But before there is once again snow on the ground, we wanted to get some gardening pictures posted! Even though we scaled back a "little" bit this year, the garden's bounty has been prolific. That's been helped by...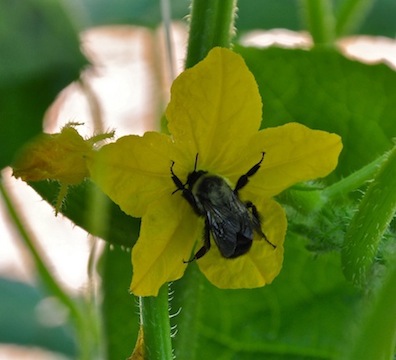 ...our busy buzzing bee friends! Here, the cucumbers are pollinated by a diligent winged worker. Soon, a baby cucumber appears...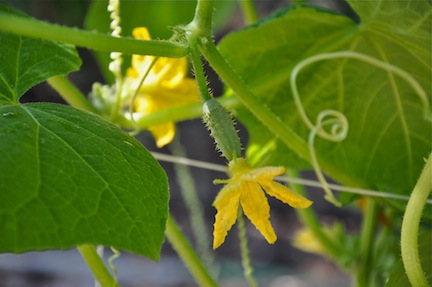 ...and in a few short days, it's time to pick, slice, and enjoy!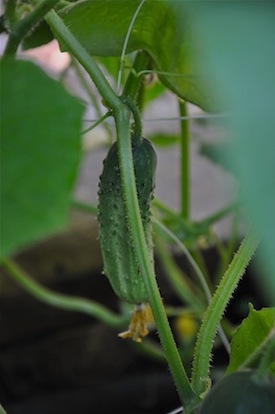 Last year we trellised the cucumbers and liked the results so we repeated it again this year.
The vertical growth results in straighter fruit and more space in the garden for the wild vines.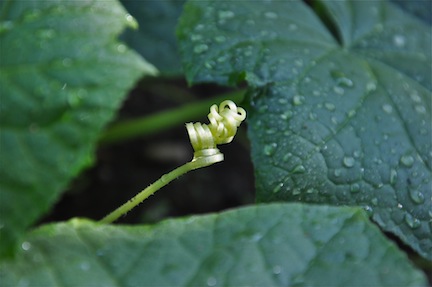 The delicate tendrils are amazingly strong and offer support to the vines and heavy fruit.
The onions--white, red, and yellow--have been dug and are drying for later use.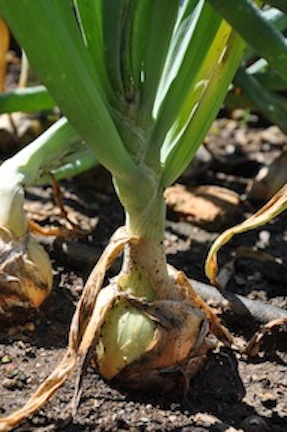 Green beans have been absolutely amazing this year. One small row produced a colander-full of perfect pods.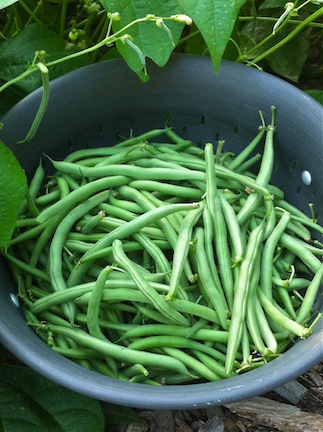 To preserve the flavor for later enjoyment, the beans were blanched and placed into vacuum bags...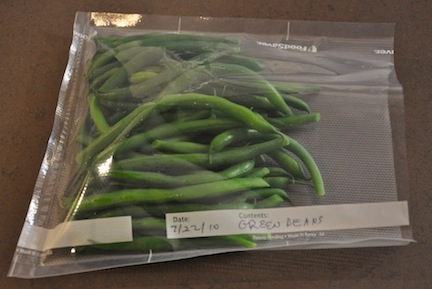 ...to be processed in the Food Saver...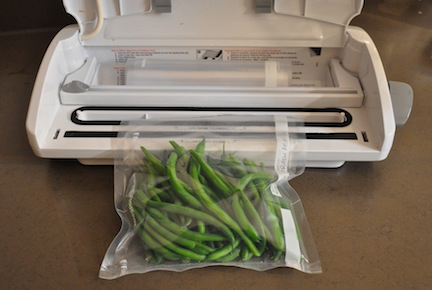 ...where the air is removed from the bags and placed in the freezer to enjoy later.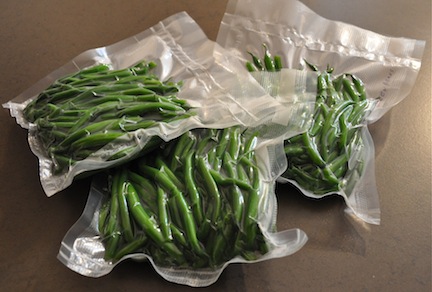 The carrots had done really well this year early on. But...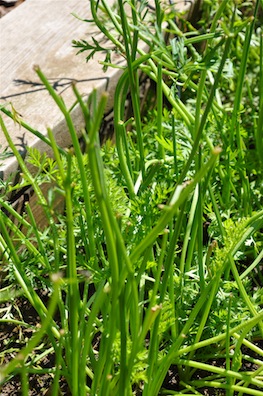 ...it was hit or miss for awhile after an invader decided to devour the tops of the carrots stunting the growth for awhile. Although a little Abu Ghraib torture was in order...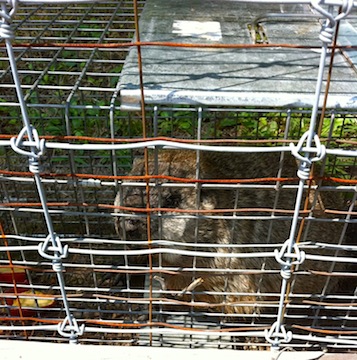 ....the offending groundhog was relocated to greener pastures to become someone else's problem!
We planted one-third of the tomato plants that we planted last year, but the crop has been amazing.
Brett's friend Beth sent him a Superman T-shirt--we only wish the shirt had come with super powers so we could flash-forward this renovation!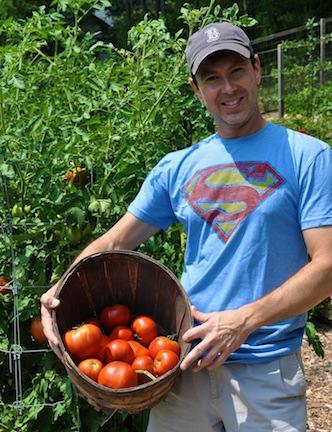 Potatoes have been dug...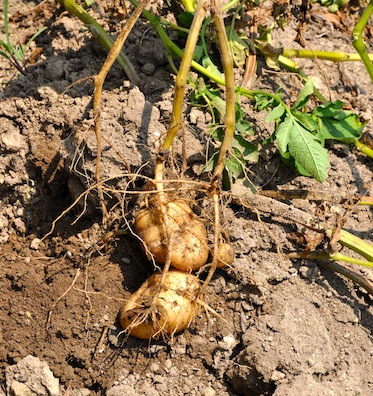 The crop was not huge...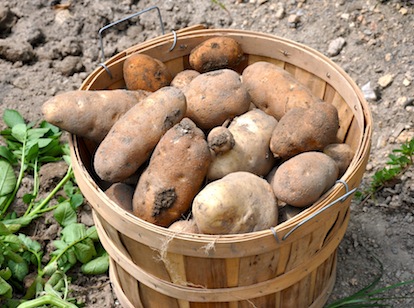 ...but will provide us with enough potatoes to enjoy well into winter.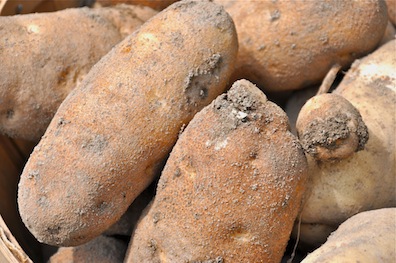 In the herb garden, the cilantro has bloomed...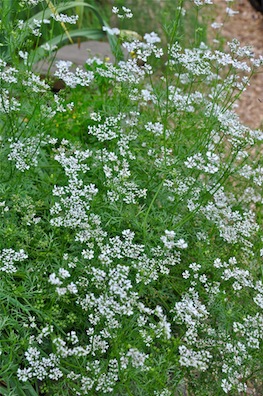 and turned to seed.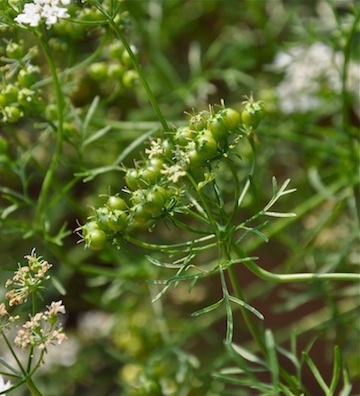 The seeds, or fruit, have now dried. Some will be saved to be planted next year and others will toasted and ground to be used in the kitchen.
Remember the rose garden that was planted a few weeks back?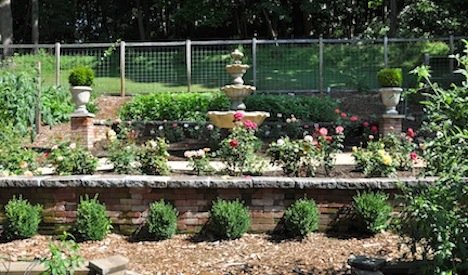 Well, it has grown very well, even in this heat, and we're happy to report that each rose plant has bloomed at this point.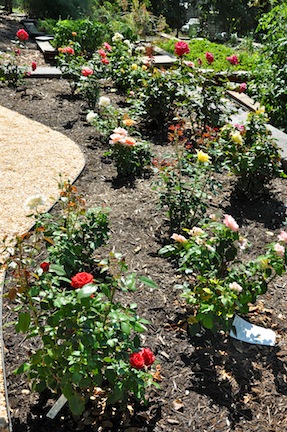 Several of you have asked and soon we'll post the names of the roses we planted. The first one to bloom was "Sheer Magic." It's an amazing rose because it opens as one color and slowly morphs into another color as it matures. Just like
magic
!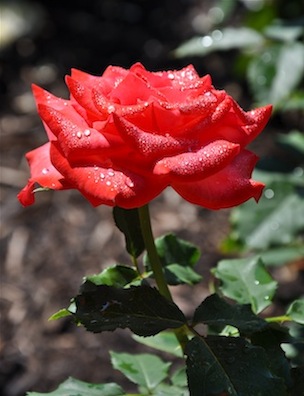 In the cutting garden, the zinnias...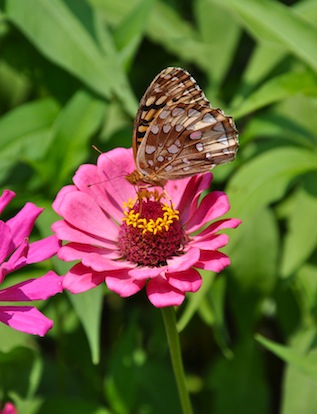 ...have flourished in this heat.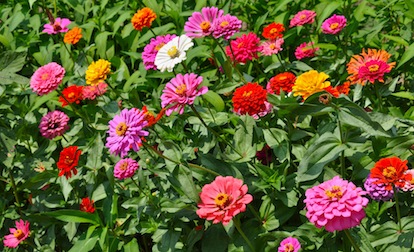 And the butterfly bushes have certainly lived up to their name!