After taking the holidays off to regroup and get accustomed to Rich's new work schedule, we came up with a game plan and have started another major project. The good new is that besides the two remaining bathrooms, the hallways and stairwells are the last thing we have to complete on the interior of the house. The bad news is that this project will include sanding and plastering the walls and ceilings from the third floor down to the first. This once was a daunting prospect but is now our reality!
So, let's take a look!
Starting on the third floor looking down...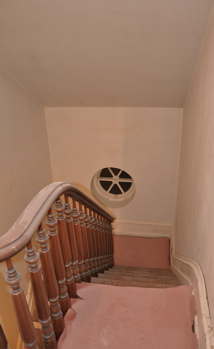 ...and third floor landing looking up to the third floor.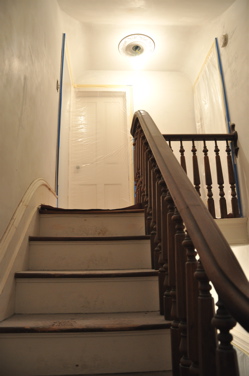 On the landing from the third floor down to the second...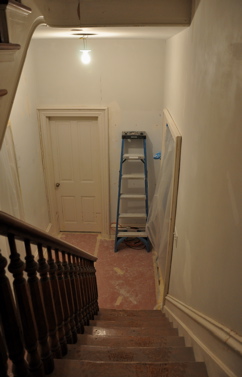 ...and second floor looking towards the second floor porch.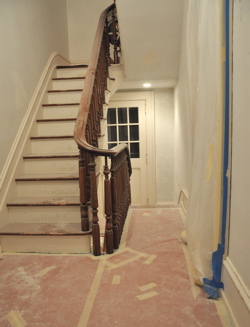 Looking down from the the second floor porch to the first floor and foyer.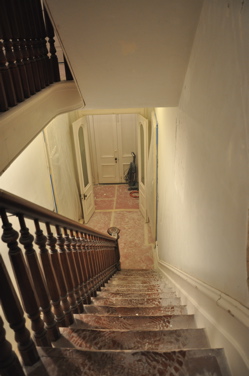 Back hallway to foyer.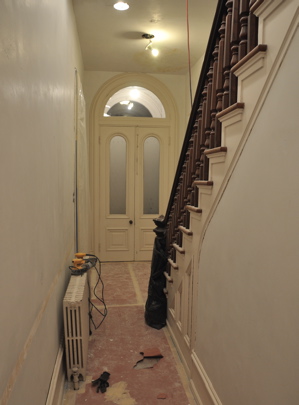 Foyer to back hallway.
The project will also include removing the banister and spindles on the staircase to repair and refinish them. We met with Jeff, our floor guy, and have come up with a plan to tackle the stair treads and remaining floor surfaces.
The rooms have been sealed off with plastic to contain the dust, but it is a mess no matter how you look at it! The driving force, however, is knowing that this will bring us closer to the reality of finishing the renovation of Kraemer House so we can fully enjoy the fruits of our labor!